Antwerp 1937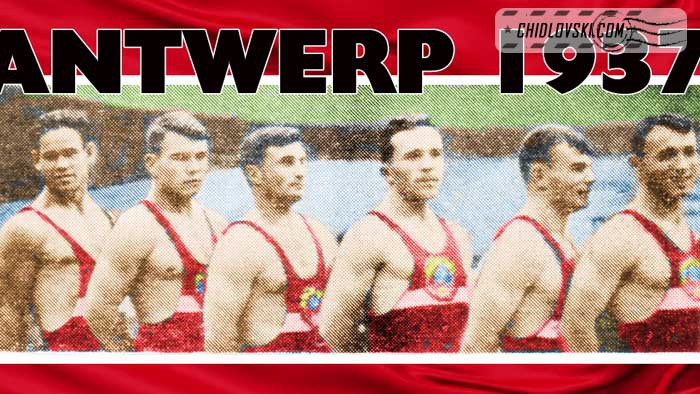 This is another enhanced photograph for the Lift Up project featuring Team CCCP at the 1937 World Workers Olympiad in Antwerp, Belgium.
Mid 1930s was the time when the pioneers of Olympic weightlifting in the Soviet Union began to enter the international competitions. At this tournament in Antwerp, the Soviet athletes won the first places in all weight classes.
Team USSR 1937 in Antwerp (left to right*):
Konstantin Nazarov (Moscow, light heavyweight), Alexander Bozhko (Moscow, light heavyweight), Vladimir Krylov (Moscow, lightweight) , Nikolay Shatov (Moscow, lightweight), George Popov (Kiev, featherweight), Moysey Kasyanik (Tbilisi, bantamweight)

Note: * The original photo was donated to the project by the family of George Popov. It was a clipping from the newspaper. I saw other versions of this photo with Yakov Kutsenko standing next to Konstantin Nazarov.
---
We don't have the protocols of the 1937 tournament in Belgium.
To give you and idea of the results shown by the athletes, here is a lineup of the 1937 USSR Championship in Tbilisi.
Note: To view a complete list of the winners in the weight classes above,
please follow the link associated with the weight class.