Heavyweight Medal Winners in Rio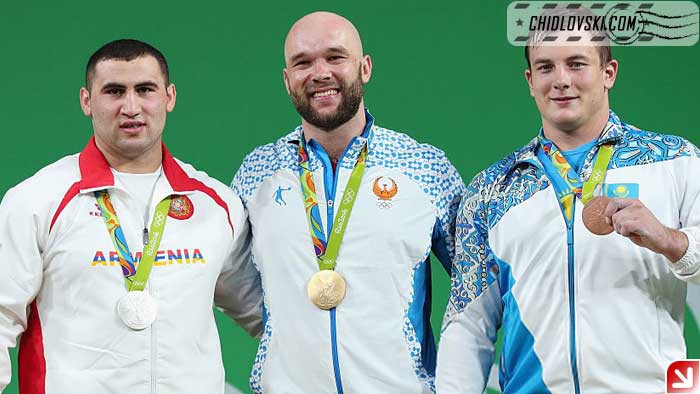 Ruslan Nurudinov of Uzbekistan won the gold medal in the heavyweight class at the 2016 Summer Olympics in Rio.
He became the Olympic champion after lifting 230KG in his second attempt in the clean-and-jerk and then set  the Olympic record at 237 KG in his last attempt.
In the snatch program, Nurudinov lifted 194KG, the same weight as his teammate from Uzbekistan Ivan Efremov. But Efremov got the first place because he was lighter on his bodyweight.
As usual for the last years, the 105KG weight class gathered an impressive lineup of potential contenders for the medals. This time, besides Nurudinov and Efremov, it included A. Plesnieks of Latvia, A. Zaychikov of Uzbekistan, B. Bonk and A. Mickalski of Poland, M. Barari of Iran, Simon Martirosyan of Armenia and Zhe Yang of China.
There were many potential scenarios with "if-then" variations during the competition  but in the end the three medals were won by Ruslan Nurudinov (gold), Simon Martirosyan (silver) and Alexander Zaychikov (bronze).
Martirosyan is a rising star of Armenian weightlifting. He is 21 and his silver Olympic medal in Rio is a big promise.
Alexander Zaychikov will turn 24 on August 17 and he won a great birthday present tonight in Riocentro. He was born in Belarus and then moved to Kazakhstan.  He won the wold title last year in Houston, TX and stands high on the list of the best heavyweights.
Great lifting in Rio!