Records Dedicated To the Leader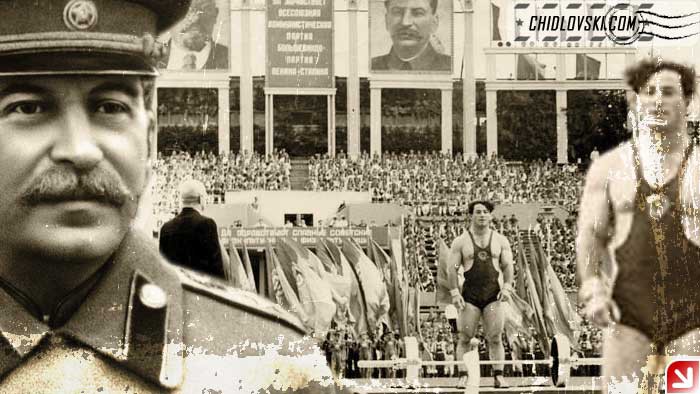 I did not feel any pressure, I just focused on each lift. The first thing I thought when I knew I had won was that I had made our Beloved Leader (Kim Jong Un) happy.
Jong Sim Rim, People's Republic of Korea
Olympic Champion, Rio de Janeiro, Brazil (via www.iwf.net)
Jong Sim Rim won the gold medal in the W75KG class and the honor went to her Beloved Leader.
Rim is an outstanding weightlifter.
She is definitely a role model for many athletes for her gutsy clutch lifts. But the quote reminded me the early Soviet days when champions dedicated their records and titles to the Leader.
Just like on the cover featuring old photo of  legendary Grigory Novak setting the world record in weightlifting on the football stadium packed with fans and in front of the Leader.
Novak was the first Soviet world champion. Not just in the weightlifting. The first world title in all sports. He was a household name for all people in Russia.
On the photo, he dedicated his new world record to Comrade Stalin, the "best friend of Soviet sports people"…
Famous Russian poet Vladimir Mayakovski once wrote:
"Iron nails should be made out of these people…"
They were "iron nails" hammered into the foundation of the Soviet power.
I don't know how honest and sincere they were dedicating their achievements to Stalin and his close circle. I know that they were determined to win despite any odds. That's the way they were brought up. That's the way they won all these Olympics and championships in the past decades.
I don't think people really want to roll back into these times. With all these impressive sports results, it was time of fear and totalitarian power destroying millions of people lives.
One day your were a national hero. The next day you were unanimously called a traitor and court-martialed in the NKVD basement.
Just a memory from the past.
Great lifting in Rio!