Things Brad Marchand Shouldn't Say To President Putin If They Meet In Russia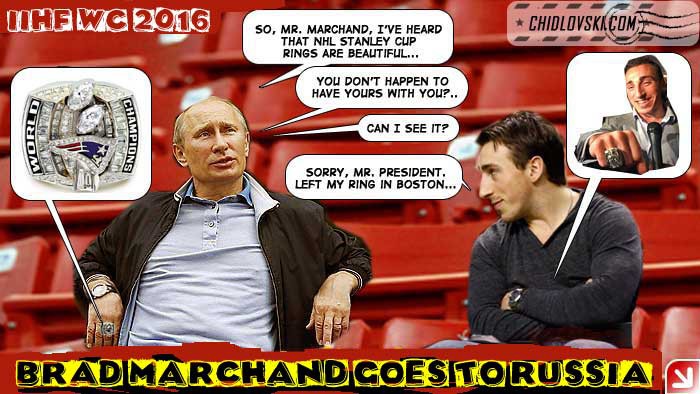 As we wrote before,  Boston Bruins' own Brad Marchand went to Russia to play for Team Canada at the 2016 World Championship.
So, far Team Canada and Brad Marchand are doing great. Canada was 5:1 against USA and 7:1 against Hungary.
Marchand scored in both games.
Now, of course, it's too early in the game to make predictions.
Just a bit of advice. About things Brad Marchand should say to President Putin if they meet in Russia.
Vladimir Putin is a big time hockey fan.
He plays hockey with the Russian old time stars in the Night Hockey League.
He likes to talk to hockey greats. He might enjoy talking to Marchand too.
Now, he might ask Brad about the great moments when Boston Bruins won the Cup and he might ask Brad to show his 2011 championship ring.
Here we have to stop. President Putin is a nice man but please please please don't show him your Stanley Cup ring. Tell him that the ring is in your appartment in Boston. Even if you wear it during the conversation.
Please prevent the embarrassment and avoid international conflict. Under any circumstances, DO NOT hand the ring to the Russian President.
If you have doubts about this advice @ Chidlovski Blog Chidlovski, double check with Mr. Robert Kraft who happens to own the New England Patriots and happened to have a similar conversation in Moscow.
Other than that, good luck to all @ 2016 IIHF World Championship in Russia!
Shaibu-Shaibu! Do Toho! Go Canada! Go USA! Heja heja!
Did I miss someone?