Houston, I've got the world in my window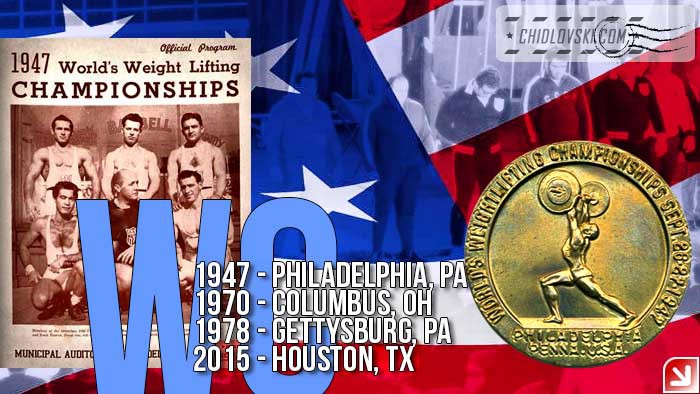 Houston, Apollo 11 . . . I've got the world in my window.
– Michael Collins
The 2015 IWF World Championship will be held in Houston, TX, USA in November 2015. From November 16 to November 28, the best athletes in the world will be competing for the world titles on the U.S. soil.
This is one of the top events in the Olympic weightlifting. In fact, it is only the 4th time when World championship will be hosted by the United States.
Previous world tournaments included 1947 WC in Philadelphia, PA, 1970 WC in Columbus, OH and 1978 WC in Gettysburg, PA (see the all-time listing below).
Obviously, it is highly recommended for all fans of the Iron Game and Team USA to attend the events, watch it on TV or internet, cheer up for Team USA.
Watch. Learn. Remember.
Go USA!
Here are some useful historical facts and statistics to review before you get into a super fan mode.
---
Modern Olympic Weightlifting: Post World War II World Championships
Source: Lift Up
| Year | Host | City/Country |
| --- | --- | --- |
| | | |
| 1946 | | Paris, France |
| 1947 | | Philadelphia, United States |
| 1950 | | Paris, France |
| 1951 | | Milan, Italy |
| 1953 | | Stockholm, Sweden |
| 1954 | | Vienna, Austria |
| 1955 | | Munich, West Germany |
| 1957 | | Teheran, Iran |
| 1958 | | Stockholm, Sweden |
| 1959 | | Warsaw, Poland |
| 1961 | | Vienna, Austria |
| 1962 | | Budapest, Hungary |
| 1963 | | Stockholm, Sweden |
| 1964 | | Tokyo, Japan |
| 1965 | | Teheran, Iran |
| 1966 | | East Berlin, East Germany |
| 1968 | | Mexico-City, Mexico |
| 1969 | | Warsaw, Poland |
| 1970 | | Columbus, United States |
| 1971 | | Lima, Peru |
| 1972 | | Munich, West Germany |
| 1973 | | Havana, Cuba |
| 1974 | | Manila, Philippines |
| 1975 | | Moscow, Soviet Union |
| 1976 | | Montreal, Canada |
| 1977 | | Stuttgart, West Germany |
| 1978 | | Gettysburg, United States |
| 1979 | | Saloniki, Greece |
| 1980 | | Moscow, Soviet Union |
| 1981 | | Lille, France |
| 1982 | | Ljubljana, Yugoslavia |
| 1983 | | Moscow, Soviet Union |
| 1984 | | Los Angeles, United States |
| 1985 | | Sodertelje, Sweden |
| 1986 | | Sofia, Bulgaria |
| 1987 | | Ostrava, Czechoslovakia |
| 1989 | | Athens, Greece |
| 1990 | | Budapest, Hungary |
| 1991 | | Donaueschingen, Germany |
| 1993 | | Melbourne, Australia |
| 1994 | | Istanbul, Turkey |
| 1995 | | Guangzhou, China |
| 1997 | | Chiang Mai, Thailand |
| 1998 | | Lahti, Finland |
| 1999 | | Athens, Greece |
| 2001 | | Antalya, Turkey |
| 2002 | | Warsaw, Poland |
| 2003 | | Vancouver, Canada |
| 2005 | | Doha, Qatar |
| 2006 | | Santo Domingo, Dominican Republic |
| 2007 | | Chiang Mai, Thailand |
| 2009 | | Goyang, South Korea |
| 2010 | | Antalya, Turkey |
| 2011 | | Paris, France |
| 2013 | | Wroclaw, Poland |
| 2014 | | Almaty, Kazakhstan |
All-Time Medals Won by Team United States
Source: Lift Up
Total number of medals won at the official IWF World Championships and Olympics won by United States.

| Team | |   |   |   |  Total |
| --- | --- | --- | --- | --- | --- |
| UNITED STATES | | 51 | 49 | 23 | 123 |
All-Time Top 20 USA Weightlifters
Source: Lift Up
The list is based on total number of medals won by lifters at the official IWF World Championships and Summer Olympics. To view the detailed information on each lifter, please follow the link associated with his names.

| Rank | Athlete |   |   |   |  Total |
| --- | --- | --- | --- | --- | --- |
| 1 | Tommy Tamio KONO | 8 | 2 | 1 | 11 |
| 2 | Peter GEORGE | 6 | 4 | 0 | 10 |
| 3 | Norbert SCHEMANSKY | 4 | 4 | 2 | 10 |
| 4 | John DAVIS | 8 | 1 | 0 | 9 |
| 5 | Stanley STANCZYK | 6 | 1 | 2 | 9 |
| 6 | Isaac BERGER | 3 | 4 | 1 | 8 |
| 7 | James BRADFORD | 0 | 6 | 0 | 6 |
| 8 | James GEORGE | 0 | 3 | 3 | 6 |
| 9 | David SHEPPARD | 0 | 5 | 0 | 5 |
| 10 | Anthony TERLAZZO | 3 | 0 | 1 | 4 |
| 11 | Charles VINCI | 2 | 2 | 0 | 4 |
| 12 | John TERPAK | 2 | 1 | 1 | 4 |
| 13 | Joseph DI PIETRO | 2 | 0 | 1 | 3 |
| 14 | Joe PITMAN | 1 | 2 | 0 | 3 |
| 15 | Robert BEDNARSKI | 1 | 1 | 1 | 3 |
| 16 | Frank SPELLMAN | 1 | 1 | 1 | 3 |
| 17 | Paul ANDERSON | 2 | 0 | 0 | 2 |
| 18 | Joseph DUBE | 1 | 0 | 1 | 2 |
| 19 | Clyde EMRICH | 0 | 1 | 1 | 2 |
| 20 | Gary GUBNER | 0 | 1 | 1 | 2 |
| 21 | Richard TOM | 0 | 1 | 1 | 2 |
| |  More | | | | |