Pam and Vlad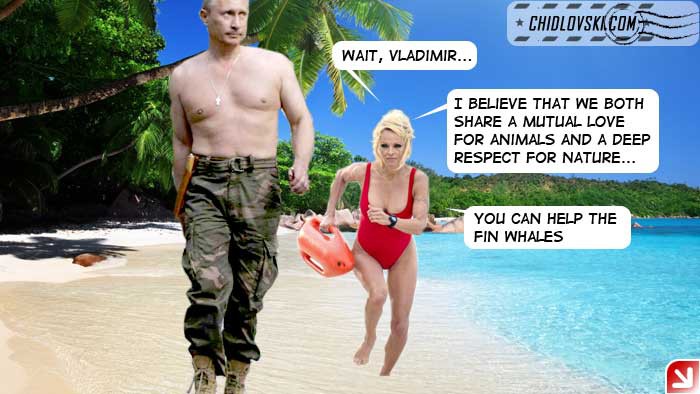 Canadian-American actress Pamela Anderson, of Baywatch fame, has sent Russian President Vladimir Putin a personal request, asking for his assistance in halting Icelandic whaling.
July 5, 2015

Dear Vladimir Vladimirovich,

I believe that we both share a mutual love for animals and a deep respect for nature and for this reason I would like to make a personal request to you, on behalf of endangered Fin whales. At this moment there is a ship in Tromso, Norway called the Winter Bay. It is carrying a cargo of 1,700 tons of Fin whale meat. These whales were killed illegally in violation of the International Whaling Commission's moratorium on commercial whaling. It is also illegal to kill Fin whales and to engage in the trade of endangered species. The Winter Bay was unable to transit the Suez Canal or the Panama Canal or to transit via Europe or Africa for fear of being stopped by the appropriate authorities. The Winter Bay intends to transit through Russian waters with assistance of Russian icebreakers to deliver this illegal cargo to Japan. President Putin, you can stop this illegal transit by forbidding this vessel from carrying a cargo of endangered Fin whale meat through Russian waters to Japan. I would like to respectfully ask you to consider investigating this shipment and to do what you can to prevent it from transiting to Japan an illegal cargo. Your decision could put an end to the needless slaughter of endangered whales by Iceland. Thank you Mr. President for your consideration of my request.

Yours Sincerely,

Pamela Anderson
Vlad, it's your move now!