Norb Schemansky (USA) Lifts the Apollon Wheels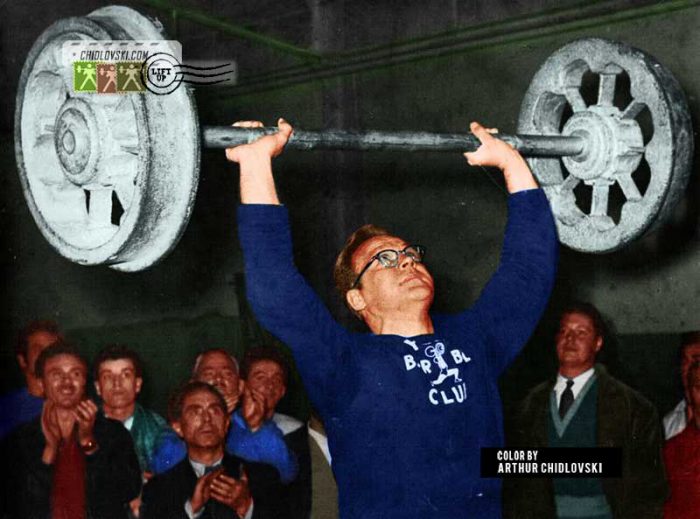 History in Color @LiftUp
Lille, France, October 1954 – Olympic champion Norb Schemansky of the United States clean-and-jerks the Apollon Wheels  in Lille.
The original Apollon Axle was a set of railway car wheels connected by an axle. In 1892, the Apollon Axle was announced as a a ready-made barbell by a professional French strongman Louis Uni (Apollon). The Axle and wheels weighted 366 lbs (166 kg). Maximum diameter of the wheels was 26 inches. The non-rotating axle bar was 1.93 inch (49 mm ) thick.
Only three men in the history were able to conquer the Apollon Axle  before – Apollon (Louis Uni) himself and legendary Olympic weighlifters Charles Rigoulot (France) and John Davis (USA). Needless to say, it is still debated if Louis Uni actually managed to lift his invention above his head. Charles Rigoulot did it in Paris in March 1930 and John Davis in September 1949.
In October 1954, after winning a gold medal in the 90kg+ class at the 1954 World Championships in Vienna, Norbert Schemansky cleaned the Axle and jerked it three times in Lille, France (on the History in Color @LiftUp cover ) and became the 4th man on a historic list of athletes who managed to conquer the Apollon Axle.