Coaches and Athletes: Plukfelder and Rigert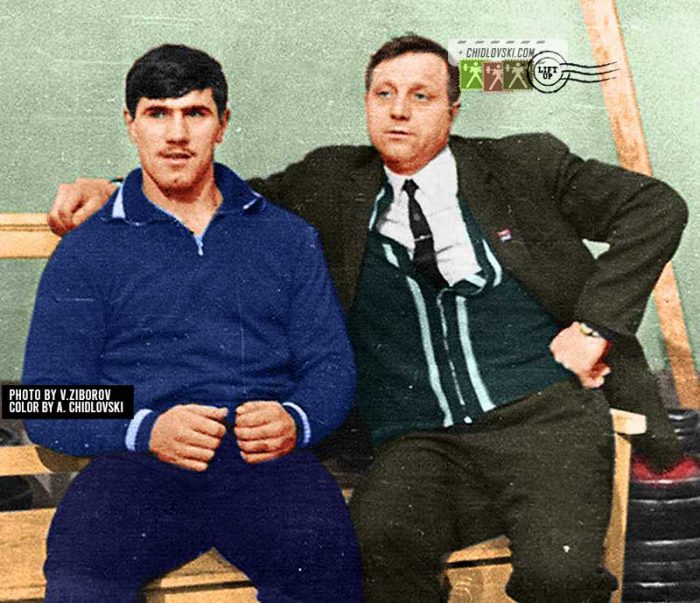 History in Color @LiftUp
Shakhty, Rostov-on-Don, USSR, January 1970 – Light heavyweight David Rigert and his coach Rudolf Plukfelder are enjoying a conversation after a training session in the Weightlifting Hall in their hometown of Shakhty.
This is the very beginning of legendary athlete-and-coach partnership between Plukfelder and Rigert. At the time of the black-and-white photo was made, Plukfelder was 42 and he was a very promising coach. As an athlete, he was a 2x Olympian. 3x World champion (1959, 1961, 1964), 3x European champion (1959-1961), 6x USSR champion (1958-1963) and author of 9 world records, Rudolf Plyukfelder first was in Rome to compete at the 1960 Summer Olympics but sustained a back injury and didn't lift at  the tournament. Four years later, he became an Olympic Champion in the 82.5kg class at the 1964 Summer Olympics in Tokyo.
Plukfelder's coaching career is virtually unmatched in terms of individual preparation of Olympic and world champions. He was a founder of a weightlifting school in a small miner's town Shakhty in the south of Russia. The list of his graduates includes such elite lifters as Alexey Vakhonin, David Rigert, Nikolay Kolesnikov, Gennady Bessonov, Vasily Alexeev, Gennady Chetin and more. Very much like during his lifting career, Plukfelder had numerous disagreements with the national team coaches in terms of training of the world-class athletes. Plukfelder openly propagated the "better less but more" formula based on high tonnage training sessions and showing maximum results at the competitions. Style wise, Plukfelder was a very detail-oriented, demanding and, in many ways, dictatorial coach.
David Rigert was not a well- known athlete in January 1970. He was 22 and didn't have any medals and trophies from the Olympics and top national or international contests. He was just starting his outstanding career in Olympic weightlifting. Is anyone not familiar who David Rigert is?