Lightweight Winners in the 67.5kg Class at the 1958 Prize of Moscow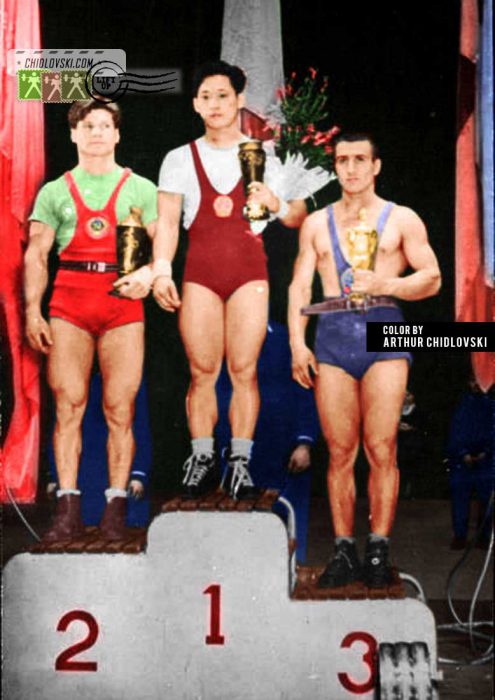 History in Color:
March 8, 1958, Moscow, Russia, USSR – Medal winners in the lightweight class are being presented with their awards at the 1958 Prize of Moscow International tournament in Moscow (left to right):
Vlktor Bushuev (USSR, 2nd place, 382.5kg), Chan Ju Huan (China, 1st place, 387.5kg), Ivan Abadzhiev (Bulgaria, 3rd place, 365kg)
All three medalists definitely belong to the list of milestone personalities in the history of Olympic weightlifting.
Chan Ju Huan was one of the world class level pioneers of this sport in China. He set several world records in the 1950s that were not listed as official records because China wasn't a member of the International Weightlifting Federation until 1970s.
Viktor Bushuev was a brilliant lightweight from Gorky, Russia, USSR. He was a 3x World champion (1957-1959) and a 2x European Champion (1958-1959). In 1960, Bushuev won an Olympic gold in Rome with a world record total of 397.5kg.
Finally, the 3rd place was won by Ivan Abadzhiev. A year before the 1958 Prize of Moscow, Ivan Abadzhiev won the first medal ever for Bulgaria at the World Championships. It happened at the 1958 Worlds in Teheran. Later on in his career as a coach, Ivan Abadzhiev became a truly revolutionary figure. He authored a new training methodology and approach that brought outstanding results on the competition platform. During his two decades of work with the national Team Bulgaria and with Team Turkey (in the late 1990s), Ivan Abadzhiev prepared 12 Olympic champions, 13 silver Olympic medalists, 4 bronze Olympic medalists, 57 world champions, 64 European champions.