1972-2022: Band of Brothers (Hockey CCCP)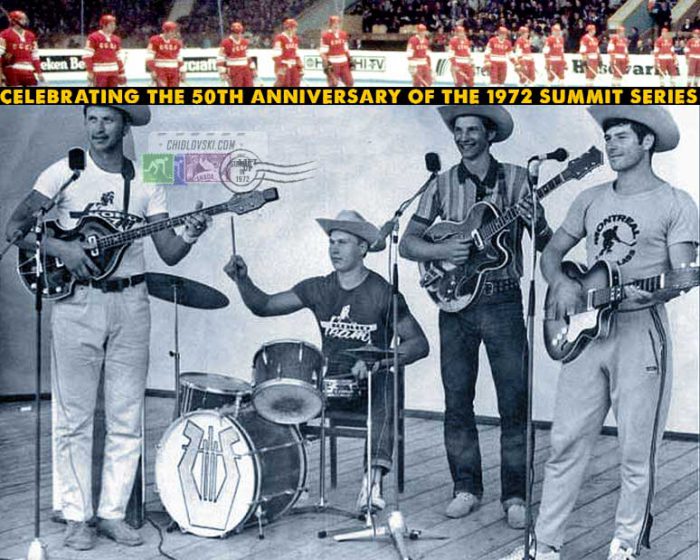 Back in 1972, Soviet hockey players trained and played hockey all year around. They were getting one month of vacation and that was about it. For the beginning of a season, they were conditioned as well as NHL players of the 1970s after a couple of months of the regular season.

Many experts and fans of hockey asked me what did the Soviet athletes do in these training camps besides training and playing hockey.
"Girls? Vodka?" suggested some of them. Not necessarily!
The cover photo offers something completely different as an off-training activity. It was taken in Alushta, Crimea in 1975.
The hockey stars of the Red Army and Team CCCP are having fun performing on stage. All played in the Canada vs USSR at the 1972 Summit Series (see the jersey #'s and position played in 1972)
Left to right:
Vladimir Lutchenko (#3, Defenseman), Alexander Volchkov (#30, Center),
Vladislav Tretyak (#20, Goalie), Valery Kharlamov (#17, Left Wing).
Notes:
The photo is from the summer 1975. The players had a season to celebrate. They won the 1974 Summit Series against Team Canada (WHA), won the 1975 World Championship in West Germany. By today view, the cloth looks pretty casual. But, considering that it is in the Soviet Union, it must have been looking rather fancy schmancy for the country behind the Iron curtain.
In a few months, they will have a great 1975 Super Series in North America where they will play vs. Montreal Canadiens, Boston Bruins, New York Rangers and the Broad Street Bullies in Philadelphia. All four players are in their prime and at the peak of their careers.
Just a blast from 50 years ago. Happy Celebration of the 50th Anniversary of the 1972 Summit Series!