Doug Hepburn: Be Strong. Be Canadian!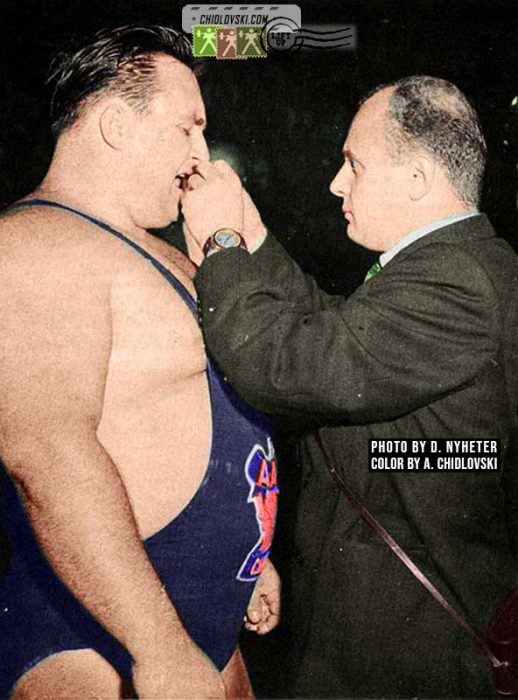 History in Color:
August 30, 1953, Stockholm, Sweden – Canadian heavyweight Douglas Hepburn is on his way to win the World title of a heavyweight champion with a total of 467.5kg (167.5+135+165) in the 90kg+ weightclass at the 1953 World Championship in Stockholm.
By the end of this day, Hepburn finished with the 467.5kg total (167.5+135+165) and won the title of a heavyweight champion of the world.
* Note: Interestingly enough, the original black-and-white photo by Dugens Nyheter comes with an amazing caption – "the Canadian Powerhouse receiving the ministrations of the Russian ream physician at Stockholm." I might be wrong but for various reasons nowadays it sounds odd. I can hardly picture an athlete getting pharmaceutical assistance from any foreign doctor (especially, from a Russian doctor) at the international competitions.
---
Douglas Hepburn was the first Canadian to win the World Championship in Olympic weightlifting and, so far, remains the only one for Canada in the history of men's tournaments.
Obviously, Hepburn is a cult figure in the history of Iron Game. There are many articles and books written about him. I'd rather present only some of his strength PB's made almost seven decades ago:
Press: 381
Snatch: 300
C&J: 383
Bench: 545*
Squat: 750
Deadlift: 705
Press f/rack: 445
Push Press: 445
Be Strong. Be Canadian!