Rudolf Plyukfelder: World Record in Ufa (1961)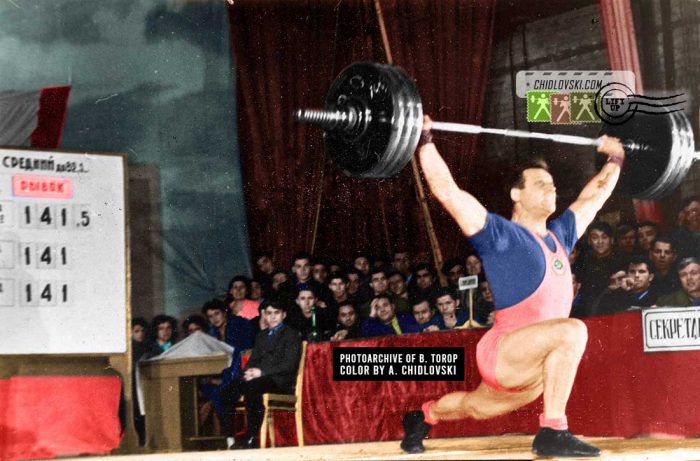 History in Color:
December 20, 1960, Ufa, Bashkiria, USSR –32 year old light heavyweight Rudolf Plukfelder of the Trud club (Shakhty) snatches 141.5kg and sets a new world record in the 82.5kg class at the 1960 RSFSR Championships in Ufa.
The year of 1960 was not an easy one in Plyukfelder's biography. He won gold medals at the USSR Championhips in Leningrad and at the European Championships in Milan but got an injury in Rome and didn't compete at the 1960 Summer Olympics in September. The story of injury during training in Rome resulted in tensions and confrontation with Arkady Vorobyev, Team USSR Head Coach. In Vorobyev's opinion, Plyukfelder overrated the seriousness of injury and publicly accused him in the lack of character and cowardice.
Four years later, Plyukfelder did win the 1964 Olympics in Tokyo. As for 1960, perhaps, breaking the world record in snatch two months after the Roman Olympics, at the 1960 RSFSR Championships in Ufa, was a mood boost for legendary Rudolf Plyukfelder at the time.