Vladimir Marchuk: Smiling Super Heavyweight Champion in Donetsk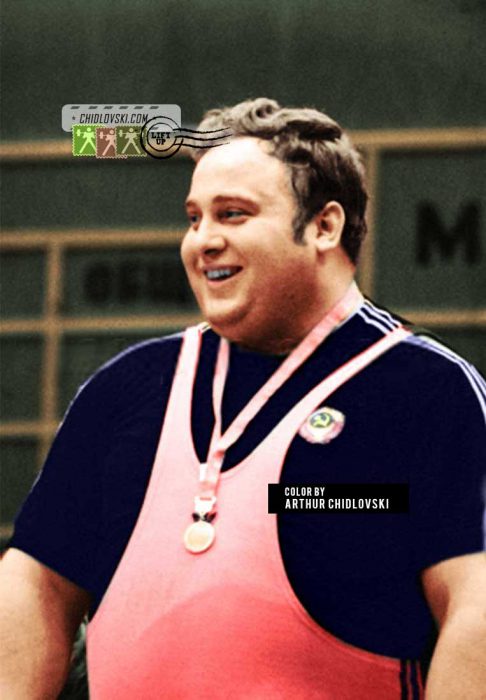 History in Color:
December 23, 1981, Donetsk, Ukraine, USSR – 27-year old super heavyweight Vladimir Marchuk of the Burevestnik club (Moscow) receives a gold medal after winning the 1st place in the 110+kg class at the 1981 USSR Cup held at the Druzhba Sports Arena in Donetsk Moscow.
Vladimir's winning total in Donetsk was 425kg (180+245). He also won a USSR gold medal in clean-and-jerk with a 245kg lift.
Vladimir Marchuk (born in 1954) was a strong and well-respected lifter with a long and solid career track in various national tournaments. His strongest lift was clean-and-jerk in which he held 2 world records. Both records had a milestone meaning.
His first world record (257.5kg cj) was a historical moment. On March 22, 1981, Vladimir Marchuk managed to break the last standing world record by legendary Vasily Alexeev (256kg cj) which was set in 1977. The second record by Marchuk  was set on December 19, 1982 when he became the first athlete in the world to clean-and-jerk 260kg.