Weightlifting Americana: U.S. Champions in the Training Hall (Paris, 1950)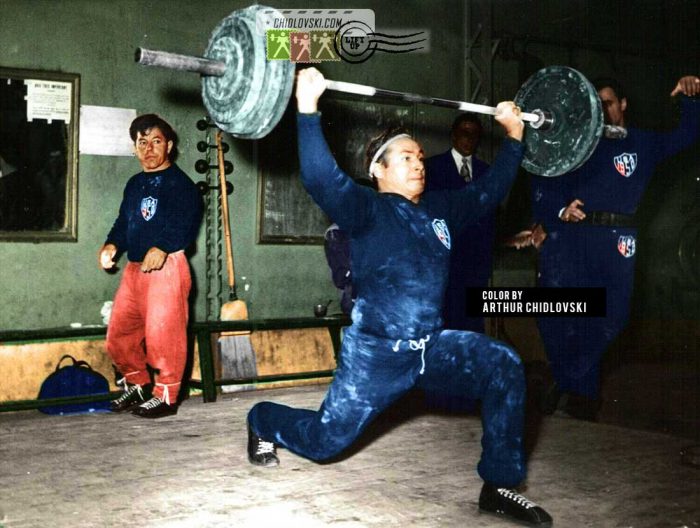 History in Color:
Paris, France, October 1950 – Members of the U.S. Weightlifting Team are training in the Paris gym during the 1950 World Championships in Paris.
After the end of World War II, U.S. weightlifting climbed to the very top of this sport and became the #1 powerhouse of champions in the 1940s and 1950s. The cover photo features the training session in Paris, France during the 1950 World championships. The 1948 Summer Olympics champions Joe Di Pietro (56kg class) and Stan Stanczyk (82.5kg class) are easily identifiable on the picture.
Bantamweight Joe Di Pietro of Paterson, NJ, USA was 36 at the time of the tournament and a year before retiring from lifting. At the 1950 Words, he won the 1st place in his traditionally strongest lift (press) and was the 4th overall in total with gold, silver and bronze medals going to Mahmoud Namjou (Iran), Rafael Chimishkyan (USSR) and Kamal Mahmoud (Egypt).
25-year old light heavyweight Stan Stanczyk of the York Barbell Club, York, PA, USA won gold medal in the 82.5kg class. Both Stanczyk and Arkady Vorobyev of the Soviet Union finished with 420kg in total but the gold was awarded to Stanczyk because he was lighter. Araby Awad of Egypt won the bronze.
---
Joseph "Joe" Di Pietro (1914-1999) was a legendary U.S bantamweight champion of the 1940s. At the size of 4'7" 120-pound, he competed for the Bates Barbell Club in Paterson, NJ and in the 1930s he established himself as a distinguished athlete. Due to the World War II, he wasn't exposed to competing in the international tournaments during the war.
Joe's forte was his press lift. His arms were too short, the bar barely clearing his head when they were extended and that didn't allow him to fully succeed in the other lifts. Between 1942 and 1951, Joe Di Pietro won nine national titles. He was an Olympic champion (1948), Pan American Games champion (1951) and won gold in 1947 and bronze in 1949 at the World Championships.
---
Stanley "Stan" Stanczyk (1925-1997) was one of the best graduates of the York Barbell Club. He was the first U.S. weightlifter to win the world championships in three weight classes (67.5kg, 75kg and 82.5kg).
Stanczyk won the 1948 Summer Olympics in London and became an Olympic vice champion in 1952 in Helsinki. In his career, Stanley Stanczyk also set 7 world records, won 5 world titles and a Pan American Games gold medal in 1951.
---