Gerry Gratton of Canada in Cardiff, Wales (1958)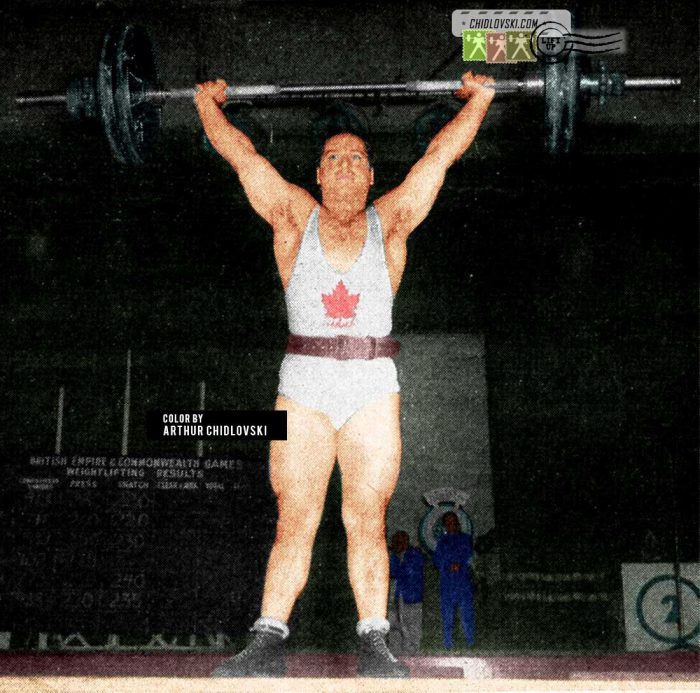 History in Color:
July 23, 1958, Cardiff, Wales –Light heavyweight Gerry Gratton of Montreal, Quebec, Canada competes in the 82.5kg weight class of the weightlifting tournament at the VI British Empire and Commonwealth Games in Cardiff.
It was the last international competition in the career of legendary Canadian weightlifter Gerry Gratton. He was 30 and it was the third time Gratton competed for Canada at the British Empire Games. Previously, he won gold medals at the Games in Auckland, New Zealand (1950) and in Vancouver, Canada (1954). At the 1958 British Empire and Commonwealth Games in Cardiff, Wales, he took the 5th place.
---
Gerald "Gerry" Gratton (1927-1963) was one of the finest Olympic weightlifters of the 1950s.
He began training in Montreal, Canada in the 1940s. His first coach was Harvey Hill, a native of England and one of the well-known pioneers of organized weightlifting in Canada. Gerry's signature approach in training was based on his great discipline and sports ethics.
At 20, Gratton was selected to represent Canada at the 1948 Summer Olympics in London and won the 5th place in the 75kg class. Four years later, he won a silver medal in the middleweight class at the 1952 Summer Olympics in Helsinki. It was the first Olympic medal in weightlifting for Canada. At the 1956 Summer Olympics in Melbourne, Gratton was one of the favorites to win a medal but didn't make weight at the official weigh-in, by 100 grams (two ounces).
As previosuly noted, Gerry Gratton competed for Canada at three British Empire Games and won gold medals in Auckland (1950) and Vancouver (1954). He was a Canadian team flagbearer at the Opening Ceremony of the 1954 British Empire Games in Vancouver.
In June 1963, he suffered serious injuries in a car accident and died a few days later. He was 35.
Gerry Gratton was inducted into the Canadian Olympic Hall of Fame in 1955 and Canada's Sports Hall of Fame in 2015.