Ivan Veselinov: 1959 World Championships in Warsaw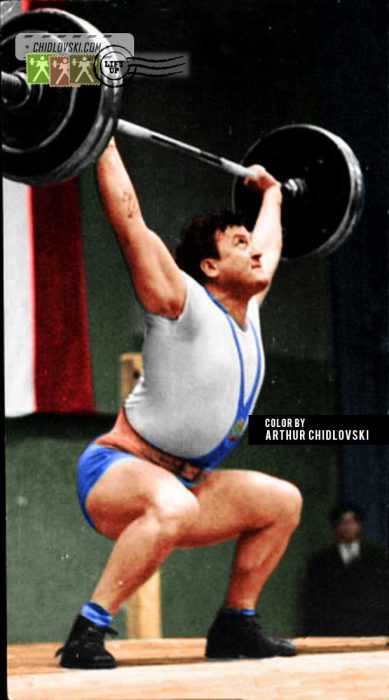 History in Color:
October 4, 1959, Warsaw, Poland – 33-year old heavyweight Ivan Veselinov competes for Team Bulgaria in the 90+kg weight class  at the 1959 World and European Championships in Warsaw.
By the end of the night, Veselinov finished with a 455kg (145+130+180) total and won a bronze medal at the Worlds and a silver medal at the European Championships
Ivan Veselinov (1926-1996) of Asenovgrad, Bulgaria was one of the best and most revognized Bulgarian weightlifters of the post World War II generation. From 1950 to 1968, he won 16 Bulgarian Championships! Veselinov was the first Bulgarian athlete to join the top international 500 Club. His personal best was 505kg (170+140+195) total that he reached in 1965.
On the international arena, Veselinov was a 3x Olympian and represented Bulgaria at the Summer Olympics in 1956, 1960 and 1964. He was is a 3x bronze medalist of the World Championship (1958, 1959), 4x European silver medalist (1958-1959, 1965) and 4x European bronze medalist (1955, 1956, 1962, 1963).
By all means, Ivan Veselinov is a Bulgarian pride of oldtime classics. He was one of the leading lifters in his country that laid down the foundation for the rise of Bulgaria to a weightlifting power house of champions in the mid 1970s and for decades to come later in the history.