Friendly Armwrestling Match: Vasily Alexeev and Jaan Talts in Paris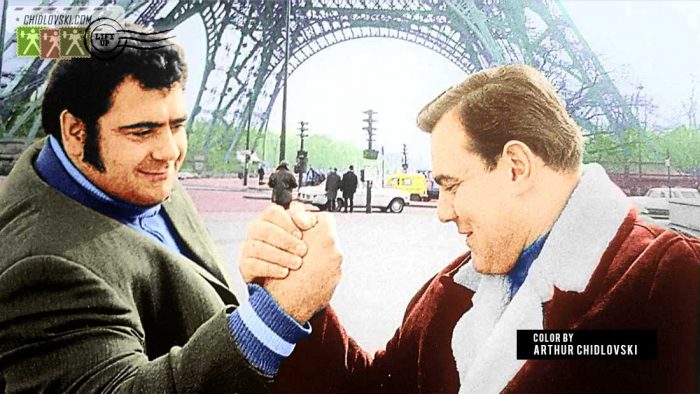 History in Color:
Paris, France, February 1971 – Soviet heavyweights Vasily Alexeev and Jaan Talts are being caught on camera while having a friendly armwrestling match in front of the Eiffel Tower during a sightseeing tour in Paris.
Alexeev and Talts arrived to France with a small group of Soviet champions for the Memorial Jean Dame tournament.
They didn't disappoint the fans of the Iron Game. There were 7 world records set during this tournament in February 1971.
Vasily Alexeev broke 3 of them with 222.5kg in press, 177.5kg in snatch and 230kg in clean-and-jerk in the 110+kg class. Jaan Talts pressed a world record of 203kg in the 110kg class.
Their teammates also added world records to their track of achievements – Gennady Ivanchenko (82.5kg class) snatched 153kg and Vasily Kolotov (90kg class) finished with a 540kg total.
One more record was set the 67.5kg weight class by Mladen Kuchev of Team Bulgaria. He pressed 146.5kg.
As far as I know, besides world records nothing else was broken in Paris by the Soviet giants in February 1971. History doesn't have a record of any damages done to the Eiffel Tower or any other landmarks of Paris during their visit shown on the cover photo.