Club 500: Nikolay Khoroshaev (Russia, USSR)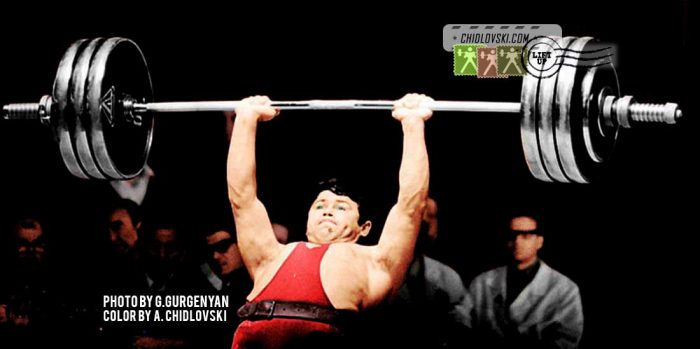 History in Color:
July 31, 1967, Moscow, Russia, USSR – 26-year old light heavyweight Nikolay Khoroshaev of Rostov-on-Don, Russia performs a press lift in the 82.5kg weight class at the 1967 USSR Spartakiade and Championships in Moscow.
Nikolay Khoroshaev (born in 1941) competed for the Army Team of Rostov-on-Don in the 82.5kg and 90kg weight classes. He was a solid national level Olympic weightlifter with a world class press lift. In his career, he managed to set 5 world record. All of them were press records.
At the 1967 USSR Spartakiade and Championships, Khoroshaev won a bronze medal in the 82.5kg class with 455kg (152.5+130+172.5) in total.
Nikolay Khoroshaev was a member of the Club 500 with his best personal 3-lift total of 515kg(180+140+195) in 1971. In the all-time and all-weightclasses rankings, he is No. 155 in the world and No. 91 in the USSR. Since the press lift was officially cancelled by the IWF in 1972, those rankings stay unchallenged and remain eternal.