Club 500: Yury Yablonovsky (Ukraine, USSR)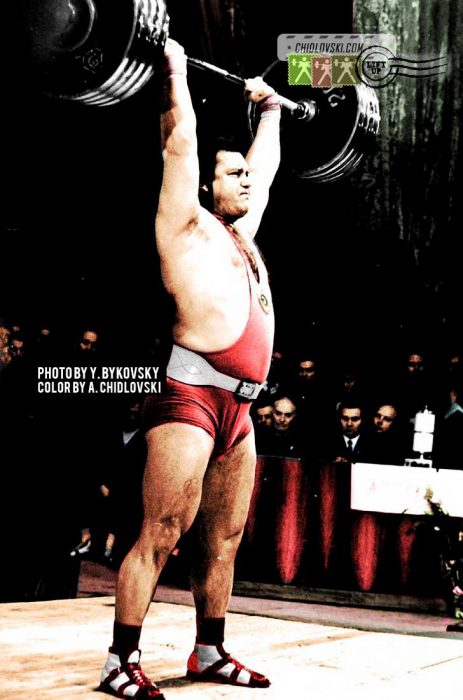 History in Color:
December 25, 1970, Kiev, Ukraine, USSR – Yury Yablonovsky. heavyweight of the Avangard Club (Lugansk), competes in the 110kg weight class at the 1970 USSR Cup in Kiev.
It was the first USSR Cup held in the Soviet Union. By the end of the night, Yablonovsky finished with 527.5kg (182.5+155+190) total. It was the third best total in the heavyweight class and, based on the athletes bodyweight, Yablonovsky took the 4th place with Pavel Pervushin (Leningrad, Russia) and Yury Onishchenko (Lugansk, Ukraine) being awarded the 3rd and the 5th places respectively.
Yury Yablonovsky (1936-1979) was one of the top Soviet heavyweights from the late 1960s to 1970s. He was inducted into the famous international 500 Club with his personal best 3-lifts total of 560kg (190+160+210) lifted in Voroshilovgrad (September 1970).
In terms of all-time ranking, Yablonovski is No. 29 in the world and No. 17 in the USSR. In addition, he has the all-time first place among the heavyweights (110kg) in Ukraine. Since the press lift was officially cancelled in 1972, those rankings stay unchallenged and remain eternal.
Yablonovsky competed for the Avangard Club of Voroshilovgrad (Lugansk) and from 1967 to 1971 earned medals at the USSR Championships including 2 gold (1967, 1968) and 3 bronze medals (1969, 1970, 1971).
In 1967, he won a heavyweight title at the 1967 USSR Spartakiade and, in 1971, he took the 3rd place for Ukraine at the 1971 USSR Spartakiade.
In addition, Yablonovsky was a 4x Champion of Ukraine (1965, 1966, 1967, 1967).
He was a World record holder and set 7 USSR records and 27 records of Ukraine.