In Memory of the Legend: 188kg World Record in Clean-and-Jerk (1986)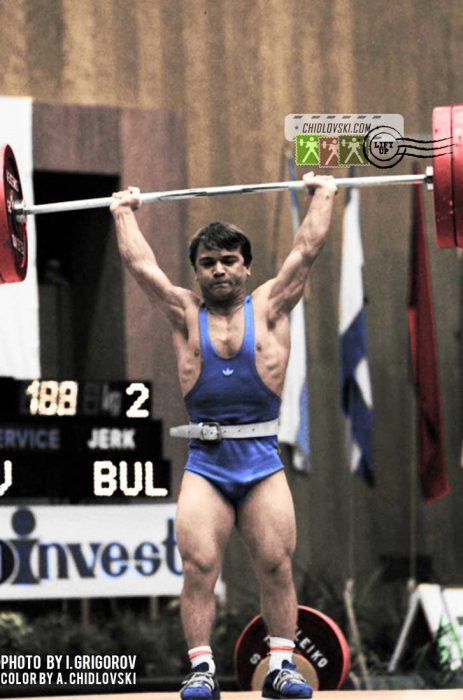 November 9, 1986 – 19-year old Naim Suleymanoglu competes for Bulgaria and lifts a 188kg world record in clean-and-jerk at the 1986 World Championship in Sofia, Bulgaria.
The "Pocket Hercules" was a featherweight lifter at the time and lifted a weight three time heavier than his bodyweight.
There were only 5 more other athletes in the history of Olympic weightlifting that were able to lift 3x bodyweight.
Needless to say, Naim Sulemanolglu did it on several occasions and the world record on our "History in Color" cover photo wasn't the first time for him.
3x Bodyweight Lifts by Naim Suleymanoglu
In the bantamweight (56KG)
1984 Vitoria, Australia – 168
1984 Varna, Bulgaria – 170 and 170.5
1984 Sarajevo, Yugoslavia – 172.5 and 173
In the featherweight (60KG)
1984 Sarajevo, Yugoslavia – 185.5
1985 Monte Carlo, Monaco – 186
1986 Karl-Marx-Stadt, East Germany – 187.5
1986 Sofia, Bulgaria – 188
1988 Seoul, South Korea – 188.5 and 190
RIP, Naim Suleymanoglu (1967-2017).