Two Generations of Soviet Super Heavyweights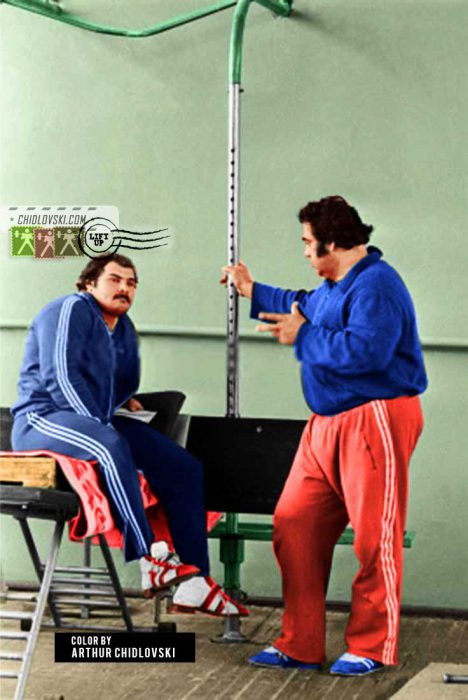 On the History in Color cover photo, two legends of the super heavyweight class, Anatoly Pisarenko (left) and Vasily Alexeev are having a conversation during training in February 1982.
2x Olympic champion and author of 80 world record, Vasily Alexeev retired from competitions after the 1980 Summer Olympics in Moscow and, at the time, worked with the national weightlifting team as one of the coaches.
Pisarenko was a rising super heavyweight star. He hasn't reached his 260kg+ clean-and-jerks era but he is on the way. He was No. 3 on the list of the 110+kg athletes to compete for Team USSR at the 1980 Olympics – right behind Sultan Rakhmanov and Vasily Alexeev.
No. 3 seldom goes to compete and Anatoly was no exception.
His chance to win the Olympic gold medal was in 1984. However, that time the whole nation didn't go because of the Soviet boycott of the 1984 Summer Olympics in Los Angeles.
Based on the Pisarenko's interview, the coach-n-athlete chemistry between Alexeev and him never really worked.