Vladimir Vilkhovsky at the 1953 National Teams Championships in Sverdlovsk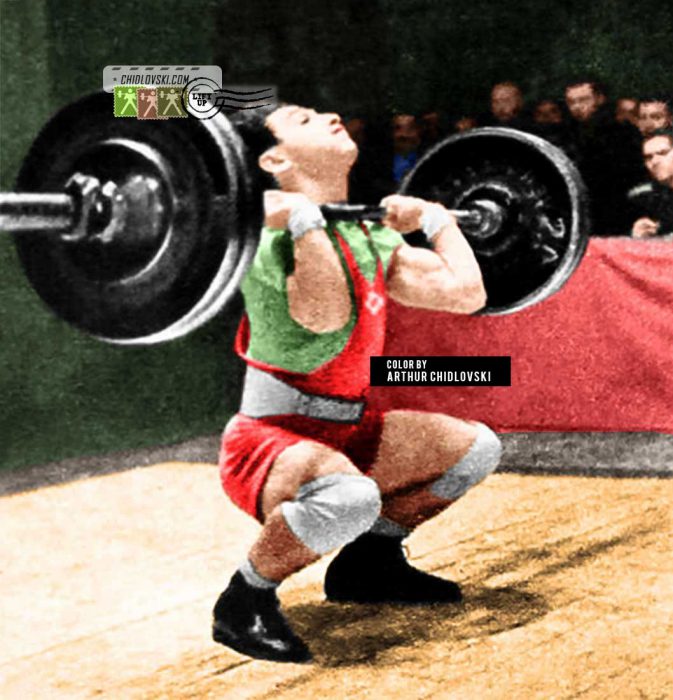 History in Color:
Sverdlovsk, Russia, USSR, December, 1953 – 26-year old bantamweight Vladimir Vilkhovsky of Spartak Moscow wins the 56kg weight class for Team Moscow at the 1953 USSR Teams Championships in Sverdlovsk.
Team Moscow won the 1st place leaving Team Russia I on the 2nd place.
Vladimir Vilkhovsky (born in 1927) was the first man in the world who snatched 100kg in the bantamweight class. He was one of the top Soviet contenders in the 56kg class but stayed second to Vladimir Stogov who took the position of the lead Soviet bantamweight of the era.
I happened to meet Vladimir Vilkhovsky on several occasions when he was the head coach of the collegiate and university team Moscow and trained the team of the Moscow Energy Institute in the late 1970s – early 1980s. The most amazing impressions I remember of Vilkhovsky was that he was a class act in the way he handled himself and that he always had a smile on his face which wasn't a very common view to see in the Soviet Union at the time.
In his career, Vilkhovsky managed to set 3 world and 5 national records in the snatch lift. He won a gold medal at the 1957 European Championships in Katowice and was a 5x vice champion of the USSR (1954-1958). He also won a gold medal at the 1956 USSR Spartakiade in Moscow.