Club 500: Boris Selitsky (Russia, USSR)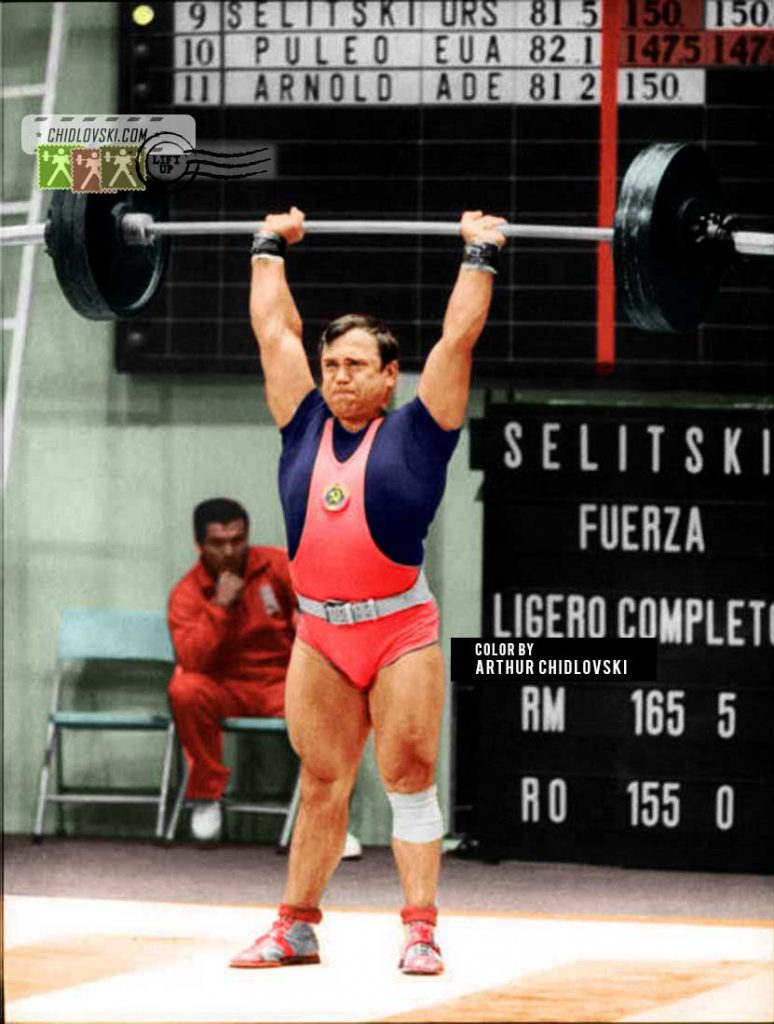 History in Color:
October 17, 1968, Mexico City, Mexico – Soviet light heavyweight Boris Selitsky of Leningrad, Russia, USSR presses 150kg in the 82.5kg weight class tournament at the 1968 Summer Olympics in Mexico City.
It was a historic night in Mexico City for a 30-year old Boris Selisky. At the 1968 Summer Olympics, he finished with a 485kg (150+147.5+187.5 ) total and became an Olympics champion. Needless to say, Selitsky was not a "one night medal stand" champion. He had a long career in this sport and competed for many years before and many years after the Olympics in 1968.
Olympic champion Boris Selitsky (born in 1938) is one of the classics in the history of the Soviet weightlifting. Besides winning the 1968 Olympics, he won a gold (1968) and a bronze (1969) medals at the World Championships, a gold (1968) and a silver (1969) at the European Championships and set 2 world records in his career. At the national USSR Championships he won 1 gold (1967), 2 silver (1968, 1971) and 1 bronze (1970) medals and won the USSR Cup in 1970.
In 1971, Boris Selitsky joined the Club 500, a prestigious list of weightlifters who managed to reach 500kg total of three lifts (Olympic press, snatch and clean-and-jerk). With the press lifting being cancelled from the Olympic weightlifting in 1972, the Club 500 remains untouched today and has no new members joining it. Selitsky's best 3-lift total was 500kg (170+147.5+182.5) with a body weight 84kg in 1971.