Rudolf Ismayr (Germany): Training Outdoors in 1936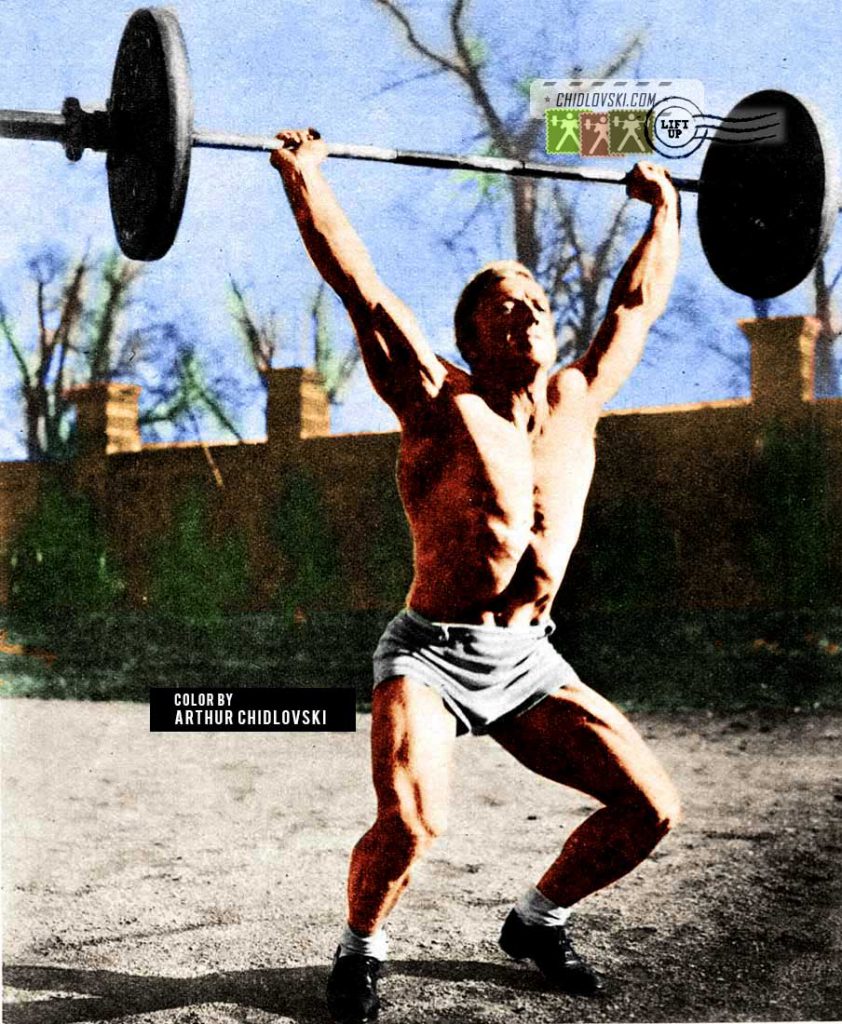 Ocober 14, 2020 – One of the international weightlifting super stars of the pre World War II era, Rudolf Ismayr (1908-1998) would have been 112 years old today.
History in Color:
Berlin, Germany, 1936 – German middleweight Rudolf Ismayr is training outdoors during preparation for competing at the 1936 Summer Olympics in Berlin.
Rudolf Ismayr competed for Germany at two Summer Olympics.  He won a gold Olympic medal in Los Angeles (1932) and a silver medal in Berlin (1936). Both medals were earned by Ismayr in the 75kg class.
Ismayr won 3 European Championships and won a title of vice champion at the 1938 World Championships in Vienna, the last World tournament before the beginning of World War II. He set 5 world records in his career as an athlete.
On the national level from 1930 to 1952, Rudolf Ismayr competed in 22 championships and won 7 national titles.
Ismayr was well-known sports celebrity in Germany. In fact, he was selected to read the Olympic Oath at the opening ceremony of the 1936 Olympic Games in Berlin. Like many champion athletes of that time in Germany, Ismayr was used for the Nazi propaganda. In 1937, he joined the NSDAP party (Nazi).
Rudolf Ismayr was a celebrity athlete on and off the competition platform. Besides his solid sports results, he was a successful sports businessman.  He pioneered an impressive income generation by endorsing commercial products.
During World War II, Ismayr fought on the front and was a POW after being captured by the British Army.
After the war, unlike most of the German sports champions of the 1936 Summer Olympics in Berlin, Ismayr cut all ties with the Nazis after World War II. When Ismayr returned to Germany, he joined the German Peace Union (DPU). He became a popular peacemaker and nuclear weapons opponent. Ismayr was also a passionate opponent of re-installment of compulsory military service in Germany. Ismayr was also an avid opponent of the boycott of the 1980 Summer Olympics in Moscow.