1956 Team USA in Melbourne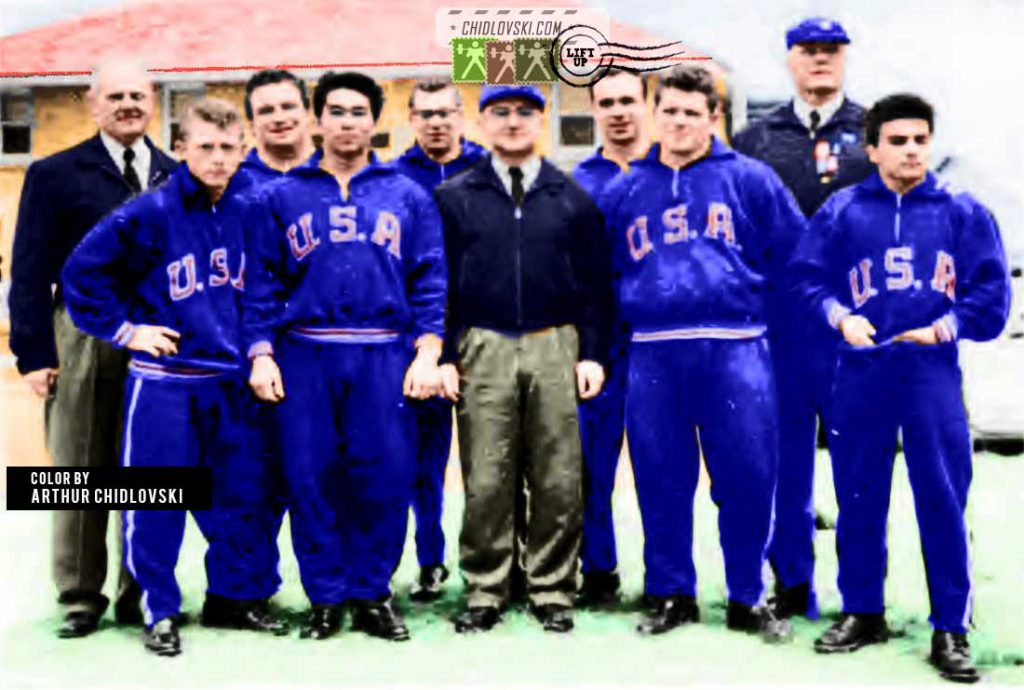 History in Color:
Melbourne, Australia, November 1956 – Members of the U.S. Olympic weightlifting team gathered for a memory group photo at the 1956 Summer Olympics in Melbourne (left to right):
Clarence H. Johnson (manager), Isaac Berger (60kg, gold medal), Paul Anderson (90+kg, gold medal), Tommy Kono (82,5kg, gold medal), Jim George (82,5kg, bronze medal), John Terpak (trainer), Peter George (75kg, silver medal), Dave Sheppard (90kg, silver medal),  Bob Hoffman (coach), Chuck Vinci (56kg, gold medal)
U.S. weightlifting team had an outstanding performance and won the first place in Melbourne. It was their third consecutive win in the competition versus other national weightlifting teams at the Olympics. USA also earned the weightlifting nation number one title in London (1948) and Helsinki (1952).
U.S. athletes brought home 7 medals – 4 gold (Chuck Vinci, Isaac Berger, Tommy Kono, Paul Anderson), 2 silver (Peter George, Dave Sheppard), and 1 bronze (Jim George).
In the last day of the weightlifting tournament, the gold was won by Paul Anderson in the heavyweight class. The "Miracle of Nature" was an obvious favorite with all his world records and strength results. Needless to say, it wasn't an easy win. He won the title only because he was lighter than his opponent, Humberto Selvetti of Argentina. Actually, the cover photo shows how unusually light Paul Anderson looked after his big win in the 90+kg class. Compared to his 164.5 kg body weight at the previous year World Championships in Munich, Anderson was only 137.9 kg in Melbourne.
Note: To view a complete list of the winners in the weight classes above, please follow the link associated with the weight class.
Back to Search Tournaments