Peter George and Fedor Bogdanovsky: Best Middleweights in Munich (1955)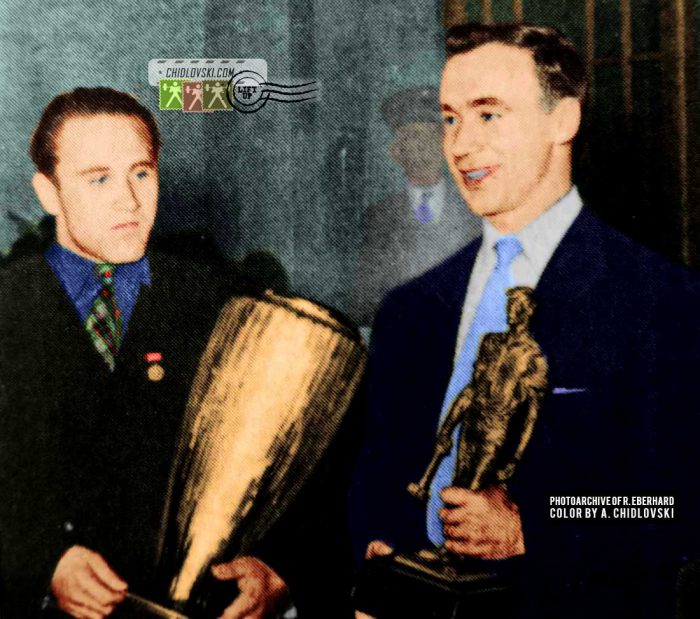 History in Color:
October 14, 1955, Munich, Germany – Weightlifting middleweight champions Fedor Bogdanovsky (left) of Leningrad, USSR and Peter George of Akron, OH, USA are receiving their medals and awards after competing in the 75kg weight class at the 1955 World and European Championships in Munich.
Both athletes ended with a 405kg in total in Munich. 26-year old Olympic champion Peter George won the World title with a 405kg (120+127.5+157.5) total. It was the 5th World title in his phenomenal weightlifting career.
Fedor Bogdanovsky won a silver medal of the World Championships and became a European champion with a 405kg (127.5+122.5+155)  total.
---
1955 World Championship
Location: Munich, FRG
Weight Class: Middleweight  [75 kg]
Rank
Athlete
Results (kg)
1
Peter GEORGE,  United States
120+127.5+157.5 = 405
2
Fedor BOGDANOVSKY,  Soviet Union
127.5+122.5+155 = 405
3
Ingemar FRANZEN,  Sweden
110+115+147.5 = 372.5
Back to Search Tournaments