Josef Steinbach (Austria): Weightlifting World Champion in the 1900s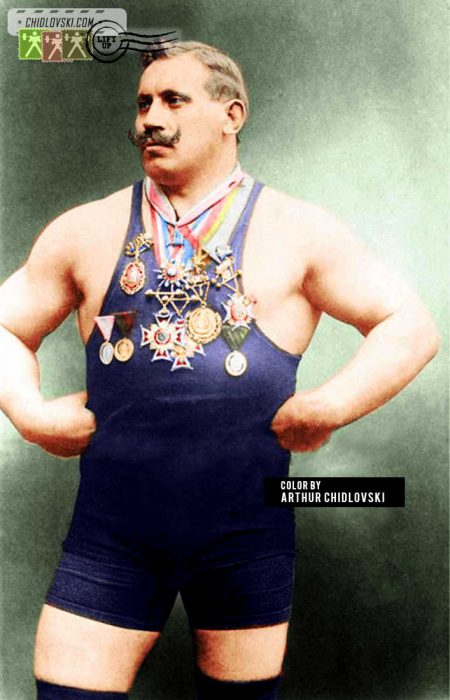 History in color:
The cover photo features our portrait of Josef Steinbach (1879-1937) of Austria, one of the strongest professional weightlifters in the world in the early era in the Iron Game history.  Steinbach won several major weightlifting tournaments in the 1900s and was definitely one of the most memorable characters of the time.
Josef Steinbach was born in a farmer's family in Bohemia (now Horsow, Czech Republic) in 1879. At 15, he moved to Vienna where he began to strength training and worked as a waiter. In 1902, Josef won his 1st  Austro-Hungarian championship title.
In April 1904, 25-year old Josef Steinbach won his first gold at the World Championships in Vienna. Steinbach competed in the times when there was no established weightlifting federation, no established rules of the sport and the lifts included into the championships varied from tournament to tournament. In 1905, there were 3 (!) weightlifting world championships and Josef Steinbach won 2 of them.
In 1906, Josef Steinbach competed for Austria at the Olympic Interludes in Athens, Greece, Greece. Steinbach participated in the two-arm and one-arm weightlifting and in the tug-of-war program. As a part of Team Austria, he won the 4th place in the tug-of-war competition.  He won a silver medal in the two-arm weightlifting tournament where he was defeated by a home crowd favorite Dimitrios Tofalos of Greece. Steinbach cj'd 136.5kg and Tofalos – 142.4kg. In a one-armed lifting, however, he managed to win the gold after pressing 76.6kg.
After the 1906 Olympic Interludes, Josef Steinbach turned professional wrestler and exhibition weightlifter. He competed in various invitational shows and tournaments. In 1910, he challenged Arthur Saxon  of Germany to compete for the crown of the professional world champion but Saxon turned the challenge down.
In his career, Steinbach set 35 world records. After his retirement,  he ran a hotel inn in Vienna and died in 1937.
His son Leopold "Poldi" Steinbach (1904-1944) was Austria's first European boxing champion.