Be a Champ! Lift Like Alexander Kraychev!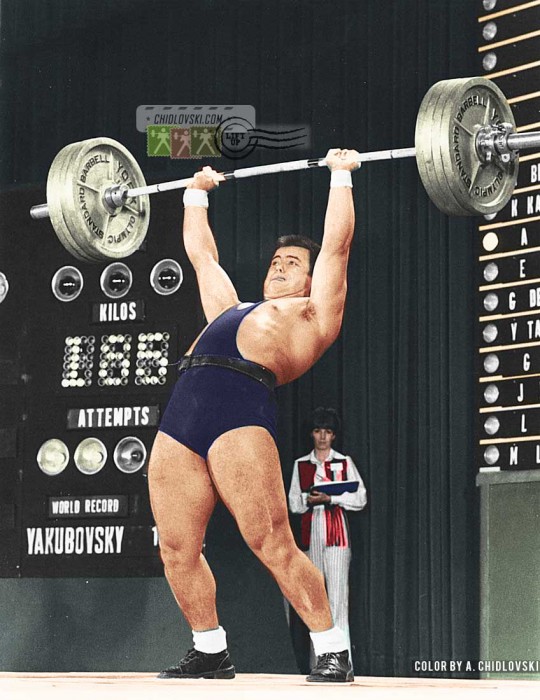 History in Color presents a color version of the pnoto with one of the first and best graduates of  Bulgarian weightlifting school by Ivan Abadzhiev, Alexander Kraychev.
Alexander Kraychev (b. 1951) was one of the international  top guns in the heavyweight class in the 1970s.
He won a silver medal for Team Bulgaria at the 1972 Summer Olympics in Munich with a remarkable 562.5kg total. Kraychev was a World vice champion in for three consecucutive years – from 1970 to 1972. He was 2x European vice champion in 1970 and in 1971 and a 2x champion of Bulgaria (1970, 1972).
He is a Bulgarian member of the Club 500. There are 7 Bulgarian athletes inducted into the famous listing.
Dimitar Tramburdzhiev and Alexander Kraychev share the best Bulgarian total of 3 lifts (562.5kg).
| | | | | | | | | | | |
| --- | --- | --- | --- | --- | --- | --- | --- | --- | --- | --- |
| 27 | Tramburadzhiev, Dimitar | 562.5 | 1948 | BUL | 120 | 203 | 155 | 205 | | 1972 |
| 28 | Kraychev, Alexander | 562.5 | 1951 | BUL | 108.4 | 198 | 162.5 | 202.5 | Munich, FRG | 1972.09.04 |
| 35 | Atanasov, Ivan | 555 | 1939 | BUL | 120 | 208 | 140 | 207.5 | | 1971 |
| 71 | Penchev, Stancho | 540 | 1940 | BUL | 109 | 200 | 145 | 195 | | 1972 |
| 99 | Shopov, Atanas | 527.5 | 1951 | BUL | 89.85 | 178 | 147.5 | 202.5 | Constanţa, ROU | 1972.05.19 |
| 110 | Nikolov, Andon | 525 | 1951 | BUL | 89 | 183 | 152.5 | 190 | Munich, FRG | 1972.09.03 |
| 203 | Veselinov, Ivan | 505 | 1926 | BUL | 130? | 170 | 140 | 195 | | 1965 |