On the Stage of the Palais de Chaillot in Paris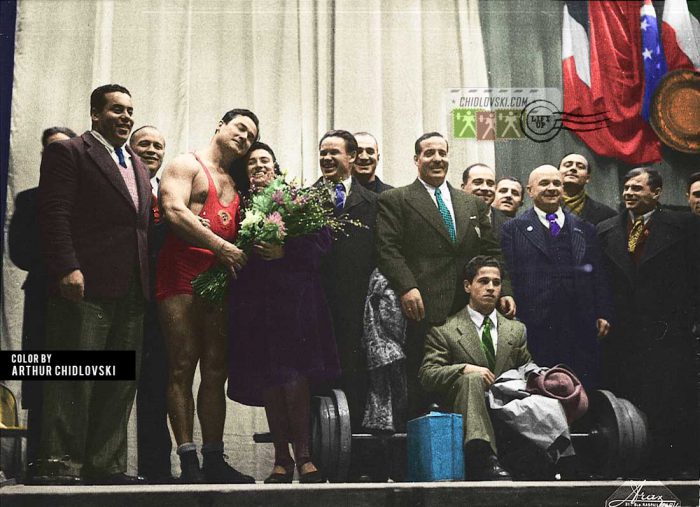 Palais de Chaillot theater in Paris, France, 1946 – Altletes of Team Egypt and Team USSR gathered on the stage of the theater for a group shot after the end of the 1946 World Championship in Paris. It was the first appearance of the Soviet Olympic weightlifters in the official World championship.
The group photo features Mahmoud Fayad (60kg, silver medal) who sits in front with a suitcase and, in the back row,  Ahmed Geisa  (82.5kg+, bronze medal ), Yakov Kutsenko (82.5kg+, silver medal), Konstantin Nazarov, Sergo Ambartsumyan (82.5kg+, 5th place), Sayed Nosseir, Yefim Khotimsky (82.5kg, 4th place), Alexander Bukharov, Georgy Popov(67.5кг, bronze medal).
The story of this photo I heard is that it was a surprise visit of Yakov Kutsenko's wife to congratulate him with his birthday. Although his birthday was a month later, it does sound romantic – a love trip from Kiev to Paris to say "Happy Birthday, honey!"