165 Kg Press By Vladimir Golovanov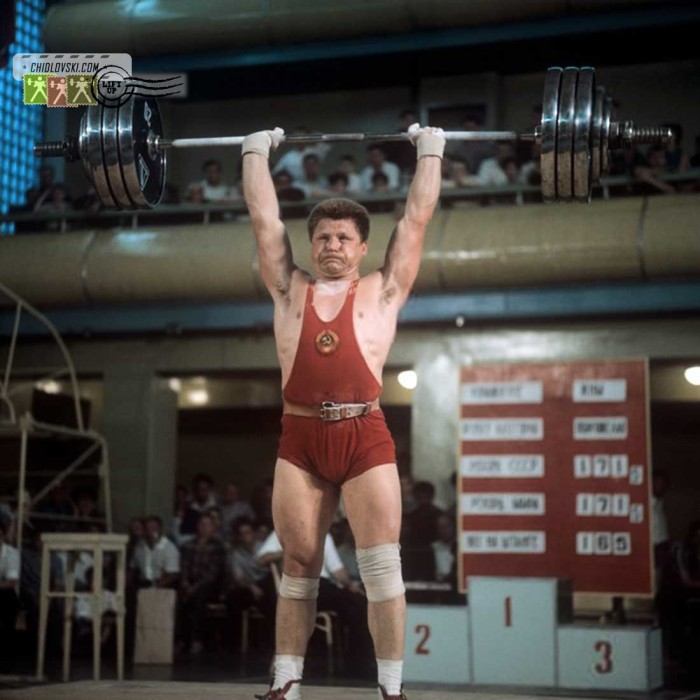 May 1968 – Lugansk, Ukraine, USSR: Olympic champion of Tokyo (1964), Vladimir Golovanov  presses 165kg at the 1968 USSR Championship.
The display behind the athlete shows the world record in the press lift – 171.5kg. It was the record that Golovanov set in Kiev three month prior to the Championship in Lugansk.
In his career Vladimir Golovanov set 5 world records. All 5 were in the press lift.
Vladimir Golovanov (1939-2003) competed in the 90kg  and 110kg classes for the Army Sports Club of Khabarovsk, Russia.
In the national tournaments, he won the USSR championships in 1964 and 1969.
On the international arena, besides the 1964 Summer Olympics, Vladimir Golovanov won gold medals at the World Championship (1964) and European Championship (1964).
On his way to the Olympic gold medal in Tokyo-64, he bypassed such legends of Olympic weightlifting as Louis Martin of Great Britain (silver medal) and Ireneusz Palinski of Poland (bronze medal) and won with the 487.5 kg total.