"Ladies and gentlemen… Alexander Bozhko!"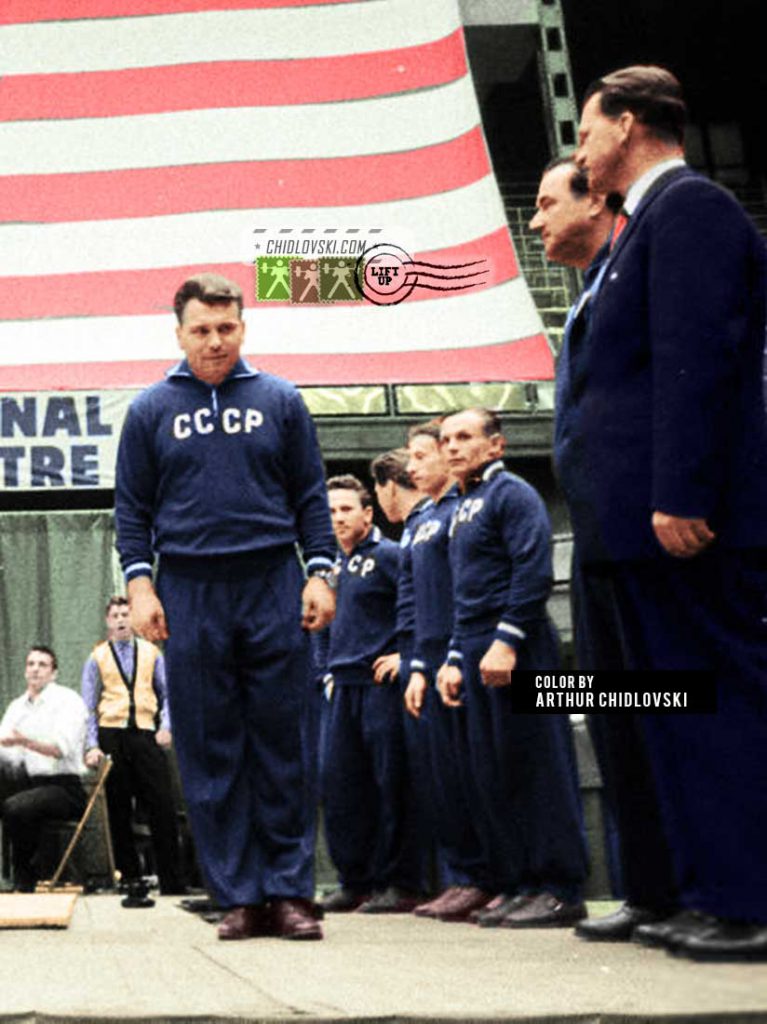 History in Color:
May 1958, Chicago, IL – One of the coaches of Team CCCP, Alexander Bozhko is being introduced at the opening ceremony of the 1958 USA vs USSR Olympic weightlifting matches in the United States.
Alexander Bozhko (1915-1977) was one of the pioneers of the Soviet weightlifting. From 1936 to 1947, he won medals at 10 USSR nationals championships including his gold medals in the light heavyweight in 1940 and 1943.
The peak of his career as an athlete definitely was in the pre-World War II times when the Soviet athletes had a very limited exposure to the international contests. In 1947,  32-year old Alexander Bozhko became a vice champion of Europe in the 75kg class at the Championships in Helsinki.
Bozhko coached Army weightlifters. The list of his students included Trofim Lomakin, Yevgeny Minaev, Vladimir Stogov and many more distinguished athletes.
On the cover photo (to the right of Alexander Bozhko) – F. Bogdanovsky (75kg), V.Bushuev (67.5kg), Ye.Minaev (60kg), V.Stogov (56kg), Ya. Kutsenko (head coach) and the head of the Soviet delegation (n/a?).