And the Winners Are (90kg, Helsinki, 1952)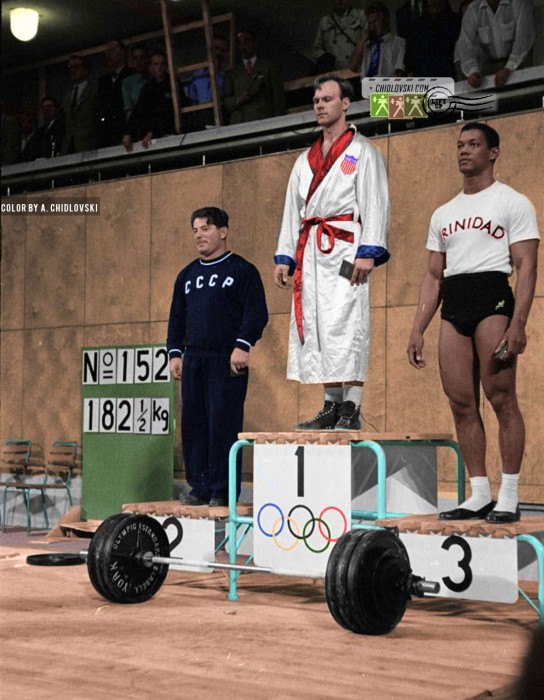 July 27, 1952, Helsinki, Finland: The winners of the 1952 Summer Olympics in the 90kg weight class are on the medal stand at the Messuhalli (Exhibition Hall) arena.
Left to right:
Grigory Novak (CCCP, silver medal), Norbert Schemanski (USA, gold medal), Lennox Kilgour (Trinidad, bronze medal)
This original black-and-white photo was made 65 years ago. There are three true legends of the Olympic weightlifting pictured here.
Grigory Novak was the first Soviet World champion ever. Not just in weightlifting – in all sports. He had a phenomenal press lift. Authors still write historical and scientific papers about his press lifting.
Despite this, the weightlifting champions were being determined by the total of three lifts and Novak stopped progressing in the other two lifts of the program at some point of his career. Why would he bother working on those if he had such a cosmic set of results in the press? It was enough to win against any opponents at the time.
Obviously, it was a mistake. 28-year old Norb Schemansky of Detroit, MI caught Novak exactly on this mistaken assumption that Novak's superb pressing would guarantee him a gold Olympic medal.
Schemansky had a great performance in Helsinki – he did 9 for 9 that night! He also did two additional lifts for the world records in the snatch and clean-and-jerk. On the other hand, Novak lifted 3 for 9 which was obviously a very poor tactical score.
1952 Summer Olympics
Location: Helsinki, FIN
Weight Class: Middle Heavyweight  [90 kg]
More Info On 1952 Summer Olympics
Rank
Athlete
Results (kg)
1
Norbert SCHEMANSKY, United States
127.5 + 140WR+ 177.5WR = 445WR
2
Grigory NOVAK, Soviet Union
140OR + 125+ 145 = 410
3
Lennox KILGOUR, Trinidad and Tobago
125 + 120+ 157.5 = 402.5
4
Mohamed Ibrahim SALEH, Egypt
110 + 125+ 162.5 = 397.5
5
Firouz POJHAN, Iran
112.5 + 120+ 155 = 387.5
6
Ken MCDONALD, Australia
107.6 + 125+ 152.5 = 385
7
Francisco RENSONNET, Argentina
107.5 + 112.5+ 150 = 370
8
Theunis JONCK, South Africa
112.5 + 110+ 145 = 367.5
9
Luciano ZARDI , Italy
100 + 117.5+ 150 = 367.5
10
Kai OUTA , Finland
107.5 + 110+ 147.5 = 365
11
Borje Hilbert JEPPSSON, Sweden
112.5 + 107.5+ 142.5 = 362.5
12
Jorge SOTO, Puerto Rico
107.5 + 110+ 140 = 357.5
13
Jorgen Ludvig BARTH-JORGENSEN, Norway
100 + 112.5+ 142.5 = 355
14
Bruno BARABANI , Brasil
97.5 + 112.5+ 145 = 355
15
Jens Jorn TEGELHUS MORTENSEN, Denmark
102.5 + 100+ 142.5 = 345
16
Efraim GUSGUIZA FLORES, Romania
95 + 102.5+ 132.5 = 330
900
Laszlo BURONYI, Hungary
110 + 110+ 0 = 0
900
Joseph Melville BARNETT, Great Britain
117.5 + 110+ 0 = 0
900
Erich SEIDL, India
107.5 + 105+ 0 = 0
900
Robert ALLART, Belgium
110 + 0+ 0 = 0
Back to Search Tournaments