Kyiv Strong: Anatoly Pisarenko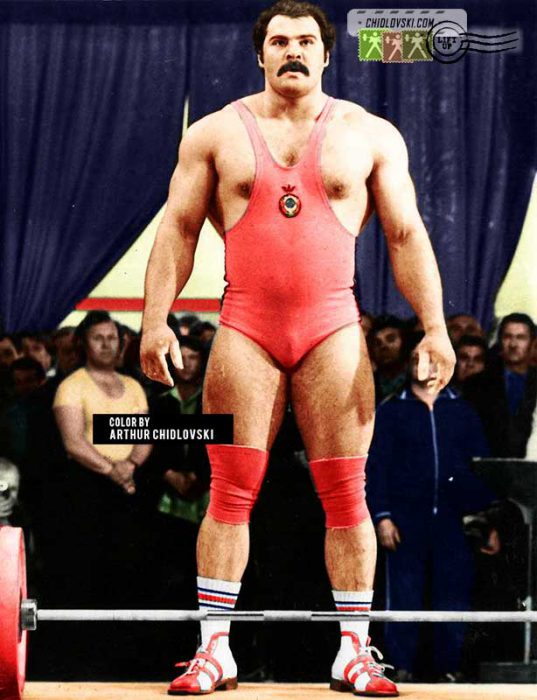 History in Color:
May 23, 1982, Dnepropetrovsk, Ukraine – 24-year old super heavyweight Anatoly Pisarenko of the Dynamo Club, Kiev  is getting ready for his snatch lifting in the 110+kg weight class  at the 1982 USSR Championships in the Old Circus Arena in  Dnepropetrovsk. At the 1982 USSR Championships, Pisarenko won his first national title with a world record 457.5kg (202.5+255) in  total. Overall, he set 3 new world records that night in Dnepropetrovsk – 202.5kg in snatch, 258.5kg in cj and 457.5kg in total.
Anatoly Pisarenko (born in 1958) is one of the most memorable and impressive super heavyweights in the history of Olympic weightlifting. He was a graduate of the Dynamo Club of Kiev and competed in the late 1970s – mid 1980s. He won 3 gold medals at the World Championships (1981-1983), 4 gold medals at the European Championships (1981-1984), 2 gold medals at the USSR Championships (1982, 1984) and set 13 world records in 1981-1984. Anatoly Pisarenko had all of it in him – power, speed, slick techniques in both snatch and clean-and-jerk and huge ambitions and successful results in pushing the limits to unthinkable.
---
"Kyiv Strong" features historical portraits of legendary weightlifting champions from Kyiv, Ukraine.
Kyiv Strong is a mini-series within my History in Color series about old-time Olympic weightlifting in color. Of course, strength is not always about muscles and kilos being lifted in the trainings halls and competitions. Today, we are all watching TV reports about people of Kyiv fighting for their city in the war. Most of them are not athletes at all but they are strong with their spirit and determination to defend their land and the place they live in. It's not about sets and reps. It's dedicated people of Kiev, to their courage and unbreakable strength of character.