Kyiv Strong: Nikolay Laputin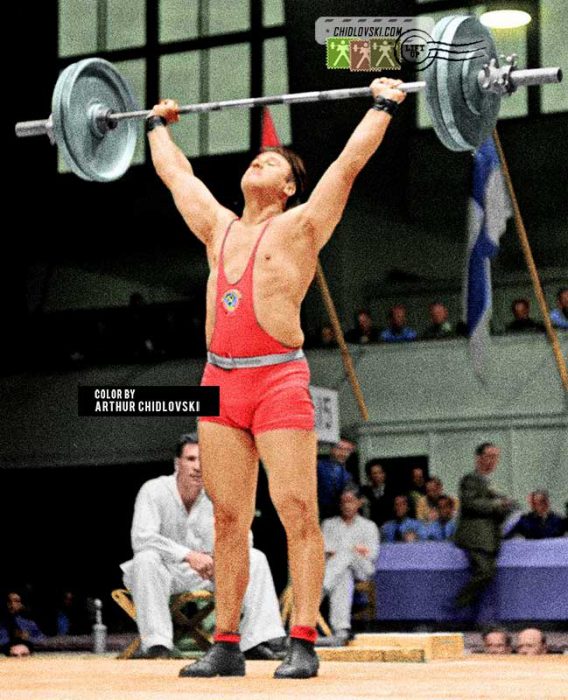 History in Color:
October 3, 1947, Helsinki, Finland – Soviet heavyweight Nikolay Laputin performs a snatch lift in the 82.5+kg weight class at the 1947 European Championships in Helsinki.
It was the first European Championships after the WWII and the first Europeans with the Soviet lifters competing at. In 1947, the Soviet team introduced two heavyweights – Yakov Kutsenko and Nikolay Laputin and they won gold and bronze medals respectively.
---
Nikolay Laputin (1913-1986) was one of the best Soviet heavyweight athletes of the post WW2 decade. At the USSR Championships, he won 5 silver (1945, 1947, 1948, 1950, 1951) and 2 bronze (1943, 1953) medals. In his career, he set 2 USSR records.
Laputin competed for the Army Club of Kiev, Ukraine and, at the Ukraine Championships, we won 1 gold (1950), 3 silver (1948, 1949, 1951) and 1 bronze (1941) medals.
After his retirement as an athlete, Nikolay Laputin became a distinguished administrator, official and educator. He was the President of the State Institute of Physical Education in Kiev (1959—1971) where he taught and was considered an outstanding speaker always gathering a full house of students at his lectures.
---
"Kyiv Strong" features historical portraits of legendary weightlifting champions from Kyiv, Ukraine.
Kyiv Strong is a mini-series within my History in Color series about old-time Olympic weightlifting in color. Of course, strength is not always about muscles and kilos being lifted in the trainings halls and competitions. Today, we are all watching TV reports about people of Kyiv fighting for their city in the war. Most of them are not athletes at all but they are strong with their spirit and determination to defend their land and the place they live in. It's not about sets and reps. It's dedicated people of Kiev, to their courage and unbreakable strength of character.