Leif Jenssen (Norway)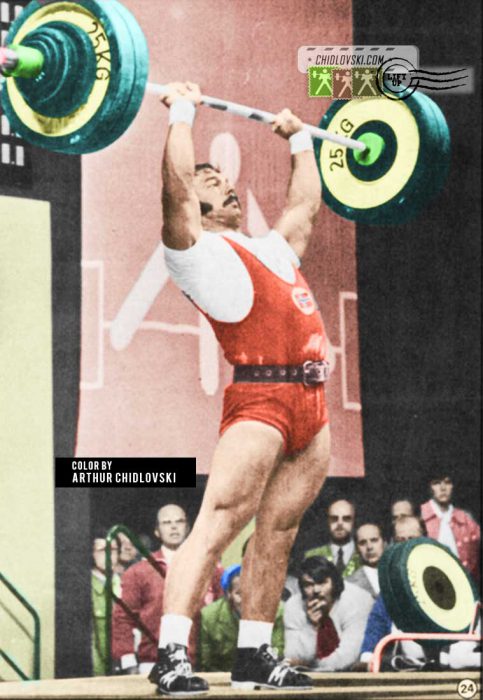 Olympic champion Leif Jenssen of Norway competes in the 82.5kg class at the 1972 Summer Olympics in Munich.
Leif Jenssen (b. 1948) became an Olympic champion in Munich in 1972.
This tournament became a triumph day for a 24-year old athlete from Norway and a total nightmare two Soviet light heavyweights Boris Pavlov and Valery Shary. Both failed to lift the starting weight in the press and were eliminated from the competition. Pavlov bombed out at 167.5kg and Shary at 170kg.
Jenssen won with the  507.5kg total (172.5+150+185) in the 82.5kg class. Compared with the previous Olympics in 1968 where Jenssen took the 14th place in the 75kg class, he added 102.5kg in total!
Besides the gold Olympic medal in Munich, Jenssen won the gold medal of the WC in 1972, silver medals at the WCs in 1970, 1971 and 1974, silver medal at the EC in 1972 году and set a snatch world record (150.5kg in 1973).
Interestingly enough, Jenssen always publicly admitted the usage of anabolics (including the 1972 Olympics). According to Leif, he began to use steroids in 1970 when his primary care doctor gave him a prescription.
Needless to note, the anabolics were not officially forbidden before January 1973. In his interviews, Jenssen says that he never regretted about taking steroids because 49 out of 50 elite lifters used them in the times he competed.
Leif Jenssen was a very strong athlete. He wasn't a noteworthy technician on the platform but his best lift was always the press. Eyewitnesses of his lifts at the 1972 Olympics noted that he almost did a military press in Munich.
In the comments at Lift Up, people from Norway remember that Leif did outstanding 305kg back squats and all say that he was and remains a pride of sports in Norway.
---