Vorobyev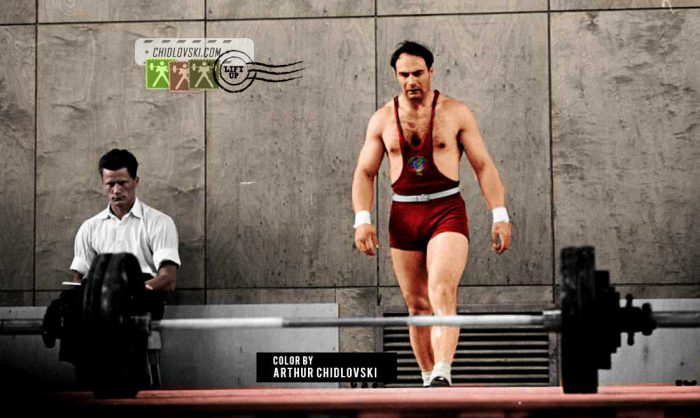 On the enhanced in color photo, Arkady Vorobyev is lifting at the 1952 Summer Olympics in Helsinki.
Legendary Olympic weightlifter, scientist, coach and educator, Arkady Vorobyev (1924-2012) belongs to the generation of the Soviet weightlifters that entered the competition platform when they returned from the battlefields of the World War 2. Decorated war veteran, Vorobyev served as a marine during the war and then as a military diver during a post-war reconstruction of the sea ports in Odessa, Ukraine. Vorobyev's first weightlifting competitions were Navy championships.
Being a very disciplined and extremely strong physically, Vorobyev soon was selected by the national team coached to represent the Soviet Union on the international arena. His achievements as an elite weightlifter were outstanding – besides numerous world titles and international tournaments, Vorobyev won two gold medals at the 1956 and 1960 Olympics and a bronze medal at the 1952 Olympic debut in Helsinki. He was a team captain and a true leader of the weightlifting national Team USSR where he enjoyed respect of both the coaches and fellow lifters. Later on, as a head coach of the Team USSR, Vorobyev led the Soviet athletes to two victorious Olympics in 1964 and 1968.
Graduate of a medical school (1957), Vorobyev has a Ph.D. in medical science. He is an author of numerous books, textbooks and research materials dedicated to the Olympic weightlifting. In 1977-1991, he was a President of Moscow Suburban Institute of Physical Education where he prepared over 50 Ph.D. candidates. As a scientist, Vorobyev authored the first computer applications for the weightlifting training process. His scientific studies were instrumental for what essentially became known as the Soviet weightlifting training methodology. The list of his students included elite coaches and lifters in Russia, Bulgaria, Cuba, Hungary and many other countries.
Save