Bobby Orr International
Bobby Orr is one of the best hockey players ever to step on the ice rink.
OK. There are top three players that are on the top of any all-time top lists out there.
Gordie Howe, Bobby Orr and Wayne Gretzky. The order varies depending on the author of the top list. I listed them in the chronological order of their appearance in the NHL.
Gordie Howe is known as Mr. Hockey.
Wayne Gretzky is The Great One.
And Bobby Orr is… Bobby Orr. Bobby Orr is forever!
With all this said, I had two or three attempts when I actually almost saw Orr live in action.
Of course, now we can see recorded games or clips somewhere on You Tube. But, those can't really be compared with live action. I can endlessly watch The Goal he scored vs St. Louis in 1970 but… I know the video frame he is going to take off "flying" in the air. I know the result of the game. I know who will happen in the next 45+ years.
It's a different story when you don't know the result of the game or tournament that is happening now, when you are watching it.
My first chance to see Orr playing was when he was selected to play for Team Canada in the 1972 Summit Series when the Soviet team wass playing the NHL players for the first time ever. Bobby Orr was with the Canadian team all the time. He even came to Moscow but he was injured and didn't play a game in that historical series.
In 1974, Team CCCP played Team Canada again. It was the 1974 Summit Series. However, Orr didn't play again because Team Canada 1974 consisted only of the WHA players.
During the first encounter between the NHL clubs and the Red Army and the Soviet Wings teams in the 1975-76 Super Series, the Red Army played vs. the Bruins in the Boston Garden. Orr didn't play again due to the injury.
Finally, in September 1976, I saw Bobby Orr playing for Team Canada in the Canada Cup. Team Canada won the tournament and Bobby Orr won the MVP award. He shared the top scorer with 9PTS (2+7) in 7 games and was selected to the All Stars. Bobby Orr was great! And he literally played "skating on one leg" because of ongoing knee problems.
In the last game of the finals, Bobby Orr swept jerseys with Oldrich Machac and it looked a bit odd to see the star of Canadian hockey wearing the Czechoslovakian jersey No. 4.
It did look strange in 1976. It doesn't now when the national boundaries of the leagues in world blurred.
Bobby Orr is forever No. 4 regardless of the team, league or city he played for.
4 ever No 4!
Bobby Orr is Bobby Orr and I am glad to say that I actually saw him playing.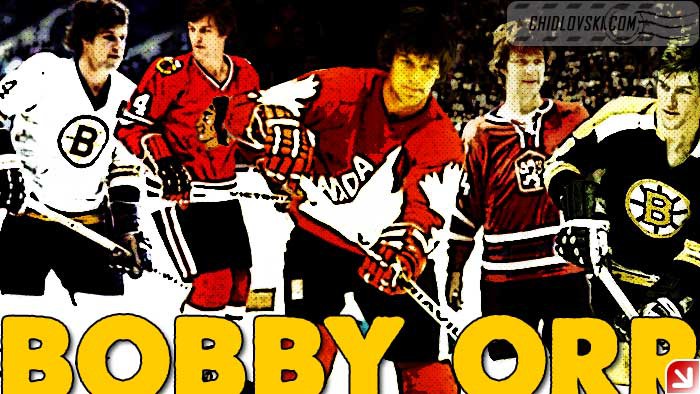 Save
Save
Save
Save
Save