Bobby Orr International (1965)
The previous Bobby Orr International article featured a story about legendary Number 4 being a part of the first international tournaments where the NHL players faced the best European teams – from the 1972 Summit Series between Team Canada and Team CCCP to the 1976 Canada Cup where Bobby Orr received the MVP Award.
Needless to say that prior to the hit series of the games between the NHL and the Soviets in the early 1970s, there is a rarely mentioned game where Bobby Orr and other NHL prospects played vs. national Soviet team coached by Anatoly Tarasov and Arkady Chernyshev.
The game took place on December 14, 1965 in Toronto during the series of exhibition games that Team CCCP played in Canada in December 1965. The series consisted of 9 games.
In the third game of the series, the Soviets played vs. the OHA (Ontario Hockey Association) All Stars Team. The OHA team consisted of young players many of whom later played in the NHL and the WHA. One of these players wore jersey No 2 and it was a super talented 17-year old blueliner Bobby Orr.
Here is a quick summary of the game.
USSR vs. OHA All Stars 4:3 (1:3; 1:0; 2:0)
Toronto, December 14, 1965
Attendance: 14886
USSR:
V. Konovalenko (V.Zinger);
V. Kuzkin, V. Davydov, A. Ragulin, V. Brezhnev, O. Zaytsev, I. Romishevsky; K. Loktev, A. Almetov, V. Alexandrov, A. Firsov, V. Starshinov, B. Mayorov, A. Striganov, V. Yurzinov, V. Yakushev
OHA All Stars:
Joey Bamford;
Bobby Orr, Jim McKenny, Doug Dunville, Brian Glennie, Serge Savard;
Andre Lacroix, Danny Grant, Mike Corrigan, Gerry Meehan, Mike Byers, Barry Watson, Derek Sanderson, Ted Snell, Danny O'Shea, Al Osborne, Jim Keon, Clarkе.
FIRST PERIOD
1:0 01:44 Mayorov (Firsov; Starshinov)
1:1 03:10 T.Snell (B.Orr; Clarke)
1:2 06:57 D.Grant (A.Lacroix; S.Savard)
1:3 16:01 A.Lacroix (D.Grant)
SECOND PERIOD
2:3 25:38 Firsov (Mayorov; Starshinov)
THIRD PERIOD
3:3 44:00 Starshinov (Firsov ; Mayorov)
4:3 47:59 Loktev (Alexandrov; Almetov)
Penalties:
14 мин. (Starshinov – 10:04; Brezhnev – 13:51; Yakushev – 21:59; Firsov – 32:29; Starshinov – 32:56; Brezhnev – 36:02; Kuzkin – 55:05) – 10 мин. (D.Sanderson – 04:29; A.Osborne – 18:06; D.O'Shea – 32:29; B.Watson – 52:36; Clarkе – 58:26).
SOG:
35 (8-19-8) – 30 (10-7-13)
Officials:
Bob Naden, Blair Graham
Interestingly enough, a few players from these teams will be selected to play in 7 years in the 1972 Summit Series – Viktor Zinger, Viktor Kuzkin, Alexander Ragulin and Vyacheslav Strashinov for Team CCCP and Bobby Orr, Brian Glennie and Serge Savard for Team Canada 1972.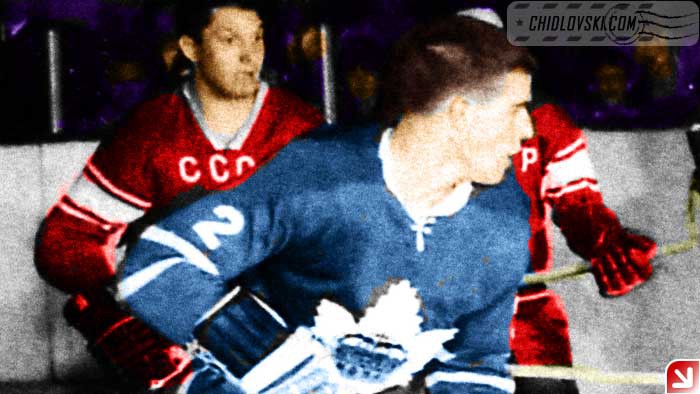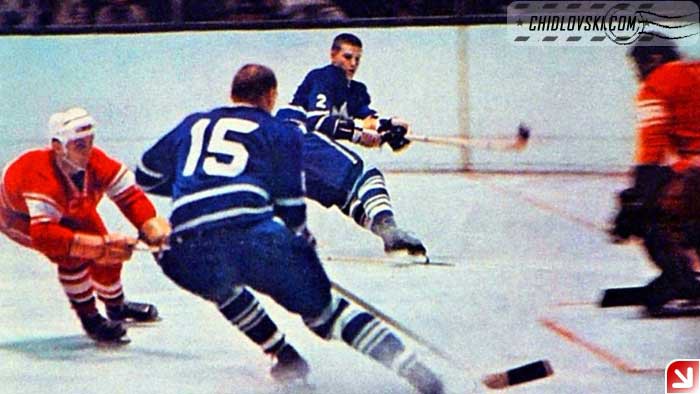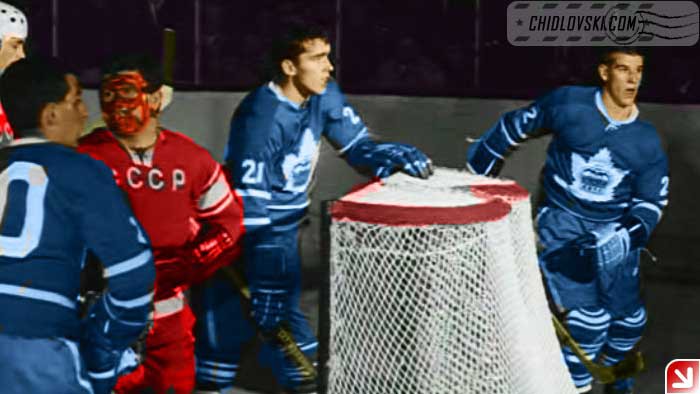 Save
Save
Save