The Strongest Women In the World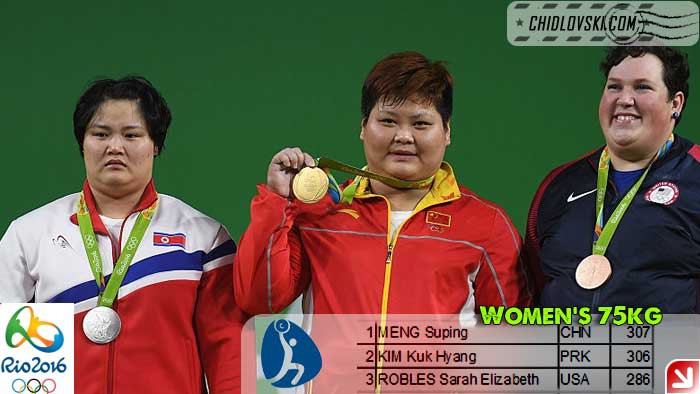 Suping Meng of China won the gold Olympic medal in the over 75KG  class for women in Rio.
Meng lifted total of 307KG which was 1KG more than the silver medalist Kuk Hyang Meng of the People Republic of Korea. Meng missed first attempts both in the snatch and clean-and-jerk lifts but she seemed to in charge that night in Rio.
Kuk Hyang Meng and Sarah Robles of Team USA had a superb performance in pursuit of Olympic medals. Both had a 6-out-of-6 lifting and won well-deserved silver and bronze medals.
One name was in presence all night but didn't make it to the medal stand. Tatyana Kashirina's world records were listed on the scoreboard above the platform but she was absent because Team Russia was banned from participating in the Olympics in Rio. One can only guess how Kashirina would have performed at the Olympics. At the tournament in Moscow 6 days ago, Kashirina totaled 323 KG (143 + 180).
Oh well, it could have been less or more… One thing for sure, absence of Kashirina in Rio allowed ladies to step one place up in the listing of results.
Guesses aside, the strongest women in the world had a great lifting in Rio.
Congrats to all!
Save