What Happens In Russia Stays In Russia: Nice To Be Famous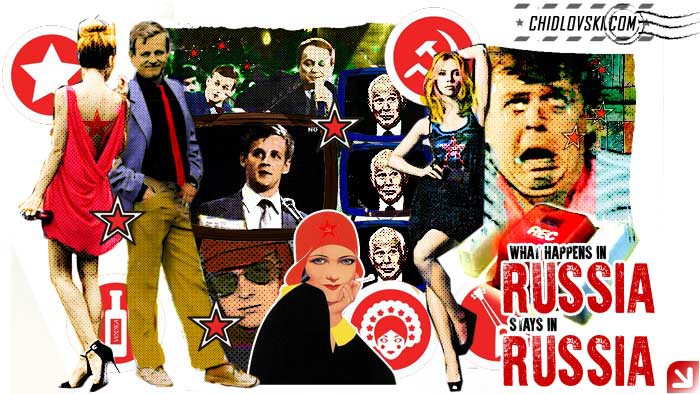 "You were supposed to be Johnny Carson. Not an IT guy."
We are sitting in the French restaurant in front of the Kremlin. We haven't seen each other for 20+ years.
I live in Boston. They live in Moscow. We are different now.
The glorious spotlights from the past bring us back together again.
They might be right. Had I not moved to the U.S. I might have been a Russian Johnny Carson now. Well, maybe not Carson. Carson is too much.  Maybe, Jon Stewart or Stephen Colbert 🙂
Back in my Russian days, I did a stand-up comedy and a few prime time TV shows. People smiled to me on the streets. It was nice to be famous.
When I moved to Boston, I went to study films for my Master's and did documentaries for a living for 5+ years. Some were shown on broadcast TV and won festival awards.
Of course, I wasn't a big time celebrity and never had free lunches in local food joints because my film won a Golden Eagle @ Cine Fest or because it was shown on PBS. It was rather a reputation thing or industry respect.
To get a free dinner, I needed to pretend that I am Bobby Orr or Larry Bird. I wasn't much of an athlete and had a long way ahead to become a bit close to understand the new culture around me.
"You were supposed to be Johnny Carson. Not an IT guy."
I tell them about the IT today. They listen to me as if I am talking about something they have nothing to do with.
Oh no. Wait. There will be a meet next week with HIM in Kremlin about copyrights of major Russian studios and they need to make sure that Russian You Tube, Yandex,  VK and Facebook will remove all copyrighted materials from their networks. Just like this – convince HIM that all these IT companies should remove their copyrighted content overnight from millions users accounts.
Just like this. Different world. Different ways to resolve issues.
"You were supposed to be Johnny Carson. Not an IT guy."
We watch the Kremlin towers and smile at the old stories. Those were great times.
It's nice to be big and famous. Much easier to accomplish things.
Need to check my ratings and traffic logs 🙂