2015 World Championship: Women, 75+KG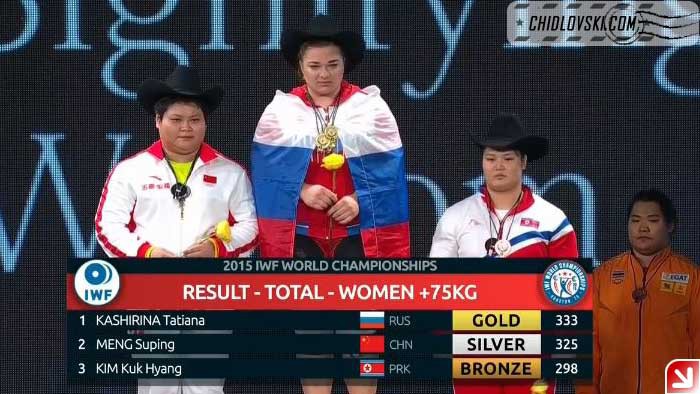 The last set of medals at the weightlifting world championship in Houston, TX was awarded to the best women's lifters in the 75KG+ weightclass.
Tatyana Kashirina won all gold medals (snatch, clean-and-jerk and total). She was head and shoulders above her opponents and relatively easy secured the center on the medal stand. The silver medal went to Suping Meng of China and the bronze medal was awarded to Kuk Hyang Kim of North Korea.
Medals go to winners from the IWF.
Pretty yellow roses and Stetson hats go to winners from Texas.
Respect and congrats go to winners from us at Chidlovski Blog Chidlovski.
And now we are all singing together:
There's a yellow rose in Texas, that I am going to see,
Nobody else could miss her, not half as much as me.
She cried so when I left her, it like to broke my heart,
And if I ever find her, we nevermore will part.
Congrats again!
Thank you for wonderful moments of lifting in Houston.
Good luck in Rio!