Tommy Kono and Fedor Bogdanovsky in Moscow (1958)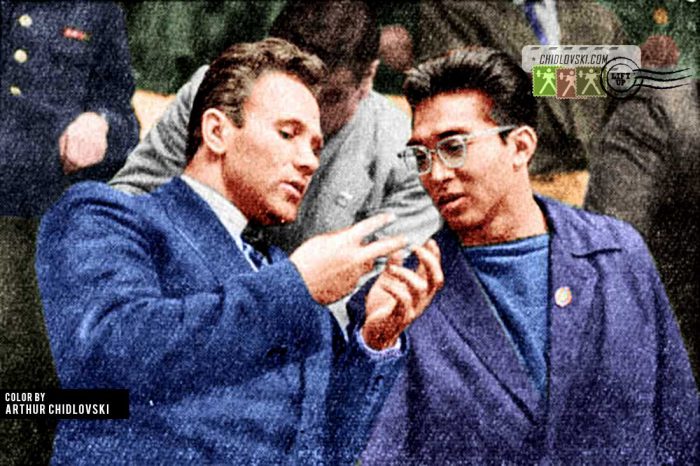 March 8, 1958, Moscow, Russia – Middleweight rivals, Fedor Bogdanovsky of the Soviet Union and Tommy Kono of the United States, are having converstion during the 1958 Prize of Moscow international tournament in Russia.
There are many fascinating stories about the rivalry between Kono and Bogdanovsky of that time. The "python looking at the rabbit" effect that Bogdanovsky experienced when he saw Kono looking at him during the competitions became a part of many historical weightlifting books and memoirs.
Tommy Kono won the middleweight class at the 1958 Prize of Moscow with a 417.5kg total. Fedor Bogdanovsky finished on the 2nd place with a 412.5kg total.
A couple of months later, they faced each other in the 75kg class at the 1958 USA vs. USSR weightlifting matches held in Chicago, Detroit and NYC, USA in May 1958. Bodanovsky won this time 2 to 1 and, as the story says, won a bet with Kono for a sports jacket.
Not sure if it was a counter bet between the legendary athletes. The History in Color cover shows Tommy Kono wearing a jacket with a Soviet weightlifting badge on it. Does anyone know if it was a trophy Kono won in a bet with Bogdanovsky in Moscow? Just being curious here.