2015 World Championship: Men, 94KG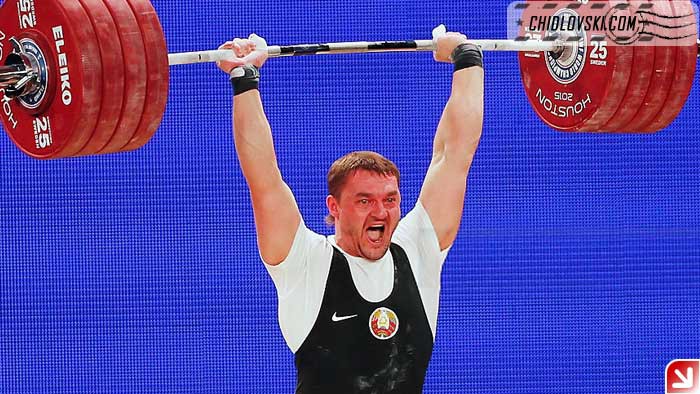 Vadim Streltsov, 29, from Belarus won gold medal in the 94KG weight class at the 2015 IWF world championship.
Streltsov lifted an impressive total of 405KG and bypassed two teammates from Kazakhstan on the medal stand – Almas Uteshov (silver, 402KG) and Zhassulan Kydyrbaev (bronze, 399 KG).
Several lifters were expected to battle for the world gold in this class. There was an impressive lineup of athletes with listed entry of 400KG + in total. Aurimas Didzbalis (Lithuania), Hao Liu  (China), Tomasz and Adrian Zielinski (both Poland), Alexander Venskel and Vadim Streltsov (both Belarus), Almas Uteshov and Zhassulan Kydyrbaev (both Kazakhstan), Alexey Kosov (Russia) and Dmytro Chumak (Ukraine) were condidered equally capable to challenge the world title.
Alexey Kosov is a world record holder (youth). He was superb in the snatch program where he won a gold medal. His 181KG snatch was impressive but not enough to guarantee a victory in total. As usual, the ones who can lift heavier in the clean-and-jerk win the competition in total.
Streltsov was only 6th in the snatch but his 230KG jerk brought him gold in CJ and in total. This is 3KG below current world record by Ilya Ilyin and it definitely deserve a round of applause for the champion.
Almas Uteshov ended up with a silver medal. In the snatch, he lifted 180KG and all three referees gave it "white lights" for a good lift. However, the jury turned it down due to a "press-out" issue. The decision was rather arguable but, in the end, it robbed Uteshov of the gold medal in total.
Both Streltsov and Uteshov challenged the world record in the clean-and-jerk. Not successful this time.
2015 World Championship

Location: Houston, USA
Weight Class: Middle Heavyweight  [94 kg]

Rank
Athlete
Results (kg)
1
Vadim STRELTSOV,  Belarus
175+230 = 405
2
Almas UTESHOV,  Kazakhstan
172+230 = 402
3
Zhassulan KYDYRBAEV,  Kazakhstan
178+221 = 399