Arvid Andersson (Sweden): 1952 Summer Olympics in Helsinki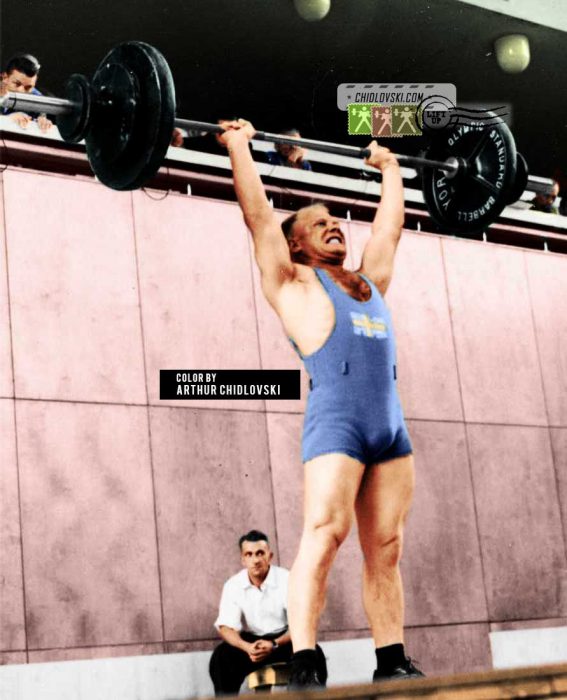 History in Color:
July 25, 1952, Leningrad, Russia, USSR – 33-year old World champion Arvid Andersson of Sweden performs a press lift in the 67.5kg class at the 1952 Summer Olympics in Helsinki.
It was the second Olympics for Arvid Andersson. Prior to Helsinki, he competed in the featherweight class at the 1948 Olympics in London and finished on the 13th place with a 292.5kg (85+92.5+115) total. At the 1952 Summer Olympics in Helsinki, Andersson moved up to the lightweight and took the 12th place with a total of 317.5kg (92.5+102.5+122.5).
Olof Arvid Andersson (1919-2011) is the most successful Swedish Olympic weightlifter of the 20th century. He was a World champion and a two-time Olympian who represented Sweden at the Summer Olympics in London (1948) and in Helsinki (1952).
On October 18, 1946, Arvid Andersson won the featherweight title at the World Championship in Paris. It was the first and, so far, the last gold medal won by Swedish athletes in Olympic weightlifting. 27-year old Arvid Andersson won the gold with the world record in total (320kg).
In addition his outstanding performance in Paris, Arvid Andersson also won the bronze medal at the 1949 World championship ans twice became a European champion (1947, 1949)