Will Yellow Rose Of Texas Grow In Russia?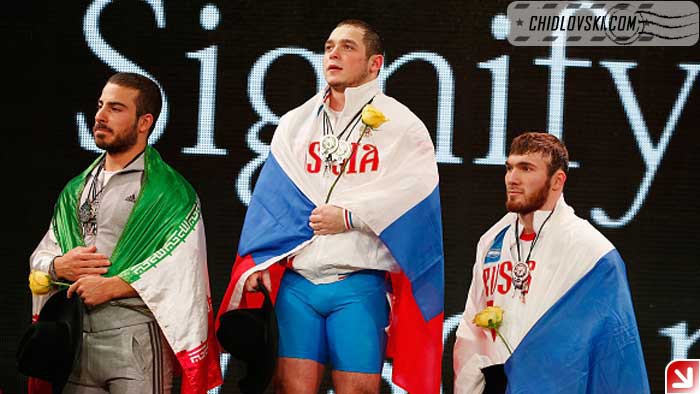 21-year-0ld Artem Okulov from the city of Perm, Russia became a world champion in the 85KG class at 2015 IWF World Championship in Texas.
Kianoush Rostami from Iran took a silver medal with 381 KG total and Apti Ukhadov of Russia won a bronze medal with 380KG total.
Very much like in the previous day in the 77KG class, this weight class was packed with potential contenders for the world title. Tao Tian, China had the highest entry total of 385KG. Okulov (Russia, 383KG), Aukhadov (Russia, 382KG), Peleshenko (Ukraine, 380KG), Asayonak (Belarus, 381KG)… All of them had a decent shot at the medal stand.
Tao Tian won the snatch program and went on for expected medal set in the clean-and-jerk. However, very much like his teammate in the middleweight last night, Tian failed to lift an opening weight and didn't qualify in the total. Both chinese athletes,  Xiaojun Lu and Tao Tian, are superior squat-style jerk lifter and both bombed out at this championship.
Top place on the podium is never empty. This time it was taken by Artem Okulov who was truly a clutch lifter today. The champions and medalists in Houston this year get a yellow rose of Texas. Will these yellow rose of Texas grow in Russia? Will they turn in a yellow rose garden next year in Rio?
2015 World Championship

Location: Houston, USA
Weight Class: Light Heavyweight  [85 kg]

Rank
Athlete
Results (kg)
1
Artem OKULOV,  Russia
176+215 = 391
2
Kianoush ROSTAMI,  Iran
173+214 = 387
3
Apti AUKHADOV,  Russia
168+212 = 380