Alex Ovechkin, 484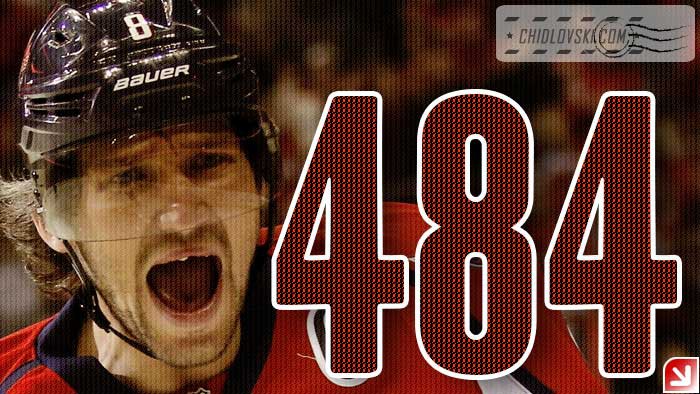 Congrats to Alex Ovechkin with the new NHL record of most goals by a Russian-born player.
Washington Capitals captain Alex Ovechkin scored his 484th NHL goal Thursday against the Dallas Stars and bypassed previous record set by Sergei Fedorov inducted into the HHOF in Toronto this month.
Too many things to celebrate here!
Too many topic for passionate discussions here…
How does Alex Ovechkin rank compared to Sydney Crosby, his constant rival on the non-stop question who's the best player on ice today?
What's your take on Ovechkin compared to other countrymen who played in the NHL – Sergei Fedoros or Alex Mogilny or Pavel Bure or…?
How would you rate Ovechkin compared to the all-time greats from Russia of earlier generations, the ones who paved the road to the NHL for Russian players?
Too many questions here 🙂 The organist is playing "Kalinka" and "Russian Sailor Dance" in between the questions and super goals by Ovi.
Super congrats to Alex Ovechkin with this milestone in the history books. Going to 500?
NHL All-Time Russian-born Goal Scorers
Data Source: QuantHockey (as of November 19, 2015)
Rk
Born
Name
Pos
GP
G
A
P
PIM
+/-
PPG
SHG
GWG
G/GP
A/GP
P/GP
1
1985
Alexander Ovechkin
F
777
484
428
912
516
67
177
4
81
0.623
0.551
1.174
2
1969
Sergei
Fedorov
F
1248
483
696
1179
839
262
144
36
93
0.387
0.558
0.945
3
1969
Alexander
Mogilny
F
990
473
559
1032
432
81
141
20
66
0.478
0.565
1.042
4
1971
Pavel
Bure
F
702
437
342
779
484
42
121
34
59
0.623
0.487
1.110
5
1973
Alexei
Kovalev
F
1316
430
599
1029
1304
-31
133
9
70
0.327
0.455
0.782
6
1983
Ilya
Kovalchuk
F
816
417
399
816
516
-116
138
10
60
0.511
0.489
1.000
7
1972
Vyacheslav
Kozlov
F
1182
356
497
853
704
96
99
4
56
0.301
0.420
0.722
8
1973
Alexei
Yashin
F
850
337
444
781
401
-83
124
4
49
0.396
0.522
0.919
9
1978
Pavel
Datsyuk
F
891
298
572
870
214
242
89
6
50
0.334
0.642
0.976
10
1986
Evgeni
Malkin
F
606
275
444
719
602
59
101
4
48
0.454
0.733
1.186
11
1970
Alexei
Zhamnov
F
807
249
470
719
668
10
64
9
34
0.309
0.582
0.891
12
1984
Alexander
Semin
F
647
239
277
516
580
69
65
4
32
0.369
0.428
0.798
13
1978
Sergei
Samsonov
F
888
235
336
571
209
11
51
0
38
0.265
0.378
0.643
14
1974
Sergei
Gonchar
D
1301
220
591
811
981
33
102
2
35
0.169
0.454
0.623
15
1966
Valeri
Kamensky
F
637
200
301
501
383
15
60
5
25
0.314
0.473
0.786
16
1975
Viktor
Kozlov
F
897
198
339
537
248
-3
54
5
19
0.221
0.378
0.599
17
1982
Alexander
Frolov
F
579
175
222
397
218
27
42
7
27
0.302
0.383
0.686
18
1974
Valeri
Bure
F
621
174
226
400
221
-33
60
0
25
0.280
0.364
0.644
19
1970
Andrei
Kovalenko
F
620
173
206
379
389
-28
47
2
31
0.279
0.332
0.611
20
1960
Igor
Larionov
F
921
169
475
644
474
104
57
10
31
0.183
0.516
0.699