Featherweights Berger and Minaev in 1958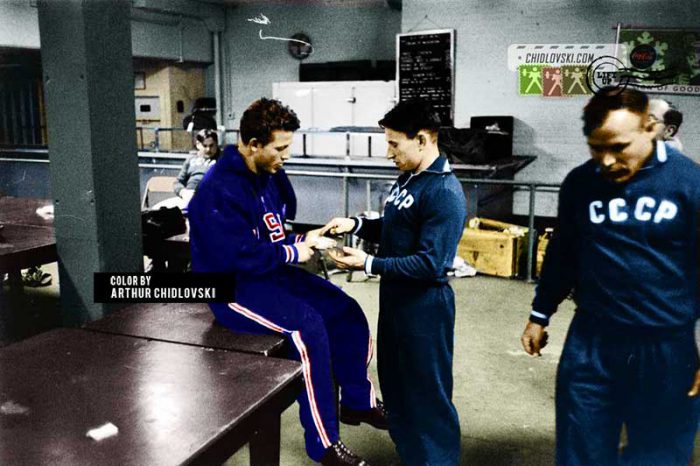 History in Color:
May 12, 1958, Chicago, IL, USA – Soviet and U.S Olympic weightlifters are waiting for the opening call of the first match of the 1958 USA vs. USSR match in Chicago.
The centerpiece of the photo is taken by featherweights Isaac Berger (USA) and Eugene Minaev (USSR) discussing the tricks of using the chalk powder for lifting.
Does it look like one of the biggest rivals in the history of this sport? They look more like college buddies. In a few minutes they will compete against each other in their 60kg class.
Trofim Lomakin (USSR, 82.5kg) is passing by. He is preoccupied with his own problems.
In the back, the future national head coach Alex Medvedev is resting before competing in the heavyweight class.
Berger went on to win all 3 matches at the 1958 USA vs. USSR weightlifting match
05/12/1958, Chicago, 60 kg
1 Isaac BERGER 362.5 117.5+102.5+142.5
2 Eugene MINAEV 357.5 115+102.5+140
05/12/1958, Detroit, 60 kg
1 Isaac BERGER 352.5 110+105+137.5
2 Eugene MINAEV 352.5 110+107.5+135
05/17/1958, NYC, 60 kg
1 Isaac BERGER 367.5 115+107.5+145
2 Eugene MINAEV 355 112.5+107.5+135