Young Vaclav Psenicka Jr: Weightlifting Promise of Czechoslovakia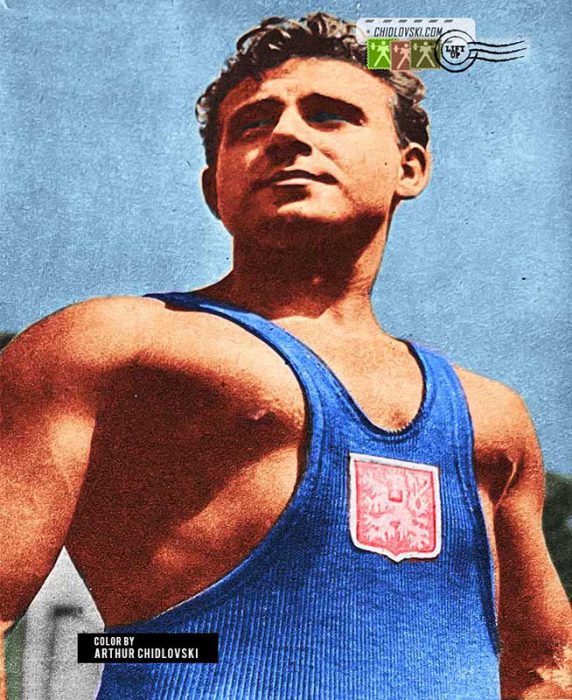 The cover photo of the History in Color series features my color version of a portrait of one of the most distinguished Czech weightlifters of the 20th century, a "poster boy" of Czechoslovakian weightlifting of the 1950s Vaclav Psenicka Jr. At the time when the original photo was made, Vaclav was 21 and he was lifting for his country at the 1952 International Youth Tournament in Budapest.
Vaclav Psenicka Jr. (1931-2015) was a 2x Olympian, who competed for Czechoslovakia at the Summer Olympics in 1952 and 1956. His father was one of the magnificent Olympians of the early decades, 2x Olympic vice champion Vaclav Psenicka Sr. (1906-1961).
Vaclav Psenicka Jr. was an 11x national champion of Czechoslovakia (1950-1960) and was elected as the Best Weightlifter of Czechoslovakia in 1954, 1955, 1956, 1957, 1958, 1959. He competed for the national team for over a decade – from 1950 to 1963. His best performance in total was 417.5kg (135+122.5+161) in the 90 kg class in 1958.
At the European Weightlifting Championships, he won silver in 1953, 1955, 1956, 1957 and bronze in 1954, 1958, 1959. At the Summer Olympics, he took the 11th place in the 75 kg class with the 350 kg total (100 + 107.5 + 142.5) in 1952 (Helsinki) and the 6th place in 82.5 kg class with the 400 kg total (125 + 120 + 155) in 1956 (Melbourne). At the World Championships, he competed 7 times and took the 4th place in 1954, 1958 and 1959.