Georgian Night in Rio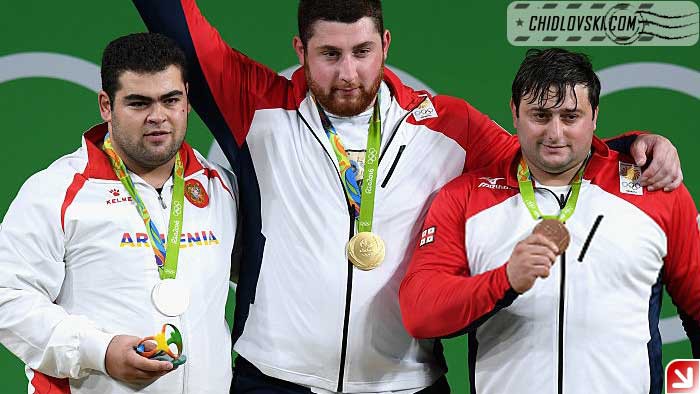 Georgian superhevyweights won gold and bronze Olympic medals in the over 105KG class in Rio.
Both Lasha Talakhadze and Irakli Turmanidze had a phenomenal performance. They lifted 6-for-6 and made their nation proud for great lifting results.
Gor Minasyan of Armenia won the silver medal in total.
Talakhadze set two Olympic records and two world records.
First, in the snatch he lifted 215 KG in his third attempt. It was a world record but it didn't last long. A few minutes later Behdad Salimikordasiabi used his third attempt to snatch a new world record of 216 KG.
Overall, it was a night of impressive snatch lifting. Four lifters sntched over 200KG – Salimikordasiabi (216), Talakhadze (215) Minasyan (210) and Turmanidze (207).
On the other hand, only Lasha Talakhadze was able to lift over 250KG in the clean-and-jerk program. He lifted 258 KG in the third attempt and set new world record in total – 473 KG. The previous record was set set 16 years ago by mighty Iranian Hossein Rezazadeh in Sydney.
There were a few controversial decisions by the officials tonight. Behdad Salimikordasiabi was eliminated from competition after three unsuccessful attempts at 245KG. The first attempt was no lift because of 2-0ut-of-3 red lights. The second attempt got three white lights but it was ruled out. The third attempt was no lift.
It was highly problematic to over rule the decision of the judges in the second attempt. Obviously, it will need further clarification because it robbed Iranian athlete of the medal in Rio. No lift for Mart Seim of Estonia in the clean-and-jerk of 250KG was another questionable call by the officials.
Still, the 105+KG class competition was pure excitement to watch. World records were set, dramatic turns on leading poundage and new faces on the Olympic medal stand.
Great grand finale of the Olympic weightlifting tournament in Rio!