1972-2022, Personalities: John Ferguson (Canada)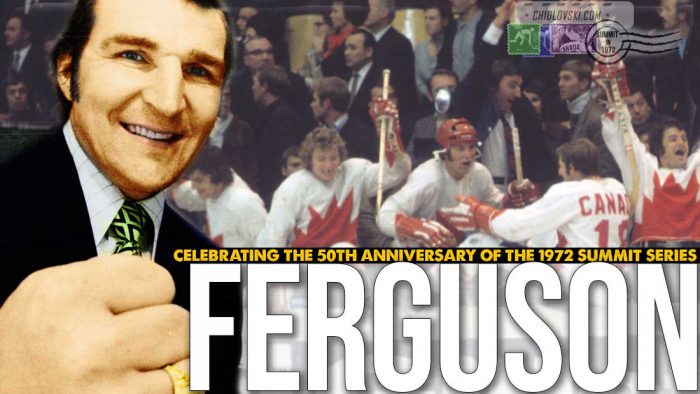 Ferguson
by Arthur Chidlovski (2002)
PROFILE:
John Bowie "Fergy" Ferguson Sr. (9.5.1938 – 7.14.2007),
Served as Team Canada 1972 Assistant Coach and Assistant GM.
Player's Career:
– Played as a RW with the Montreal Canadiens in 1963-1971
– Won 5 Stanley Cups in his 8 seasons in Montreal
– 303 PTS (145G+158A), 1,214 PIM in 500 regular season games
– 38 PTS (20G+18A), 260 PIM in 85 playoff games.
Coaching and Management Career:
– GM and coach for the NY Rangers in 1976-1978
– GM of the Winnipeg Jets (WHA) in 1978-1979
– Held various positions with the Jets until 1989
– Director of Player Personnel for the Ottawa Senators in 1992-1995
– Senior Professional Scout for the San Jose Sharks since 1995.
I've never seen John FERGUSON playing hockey. Hockey experts consider him as one of the toughest competitors of his time. In the legendary Montreal Canadiens of the 1960s, he played the role of "enforcer". By many accounts, he was the top muscle man in the professional hockey of that time.
In 1971, he ended his player's career in the NHL. Although, he was initially invited to play in the 1972 Summit Series, he later accepted Harry Sinden's offer to serve as Team Canada's assistant coach. Sinden considered Ferguson as the best "equalizer" based on numerous NHL battles between his Big Bad Bruins and the Canadiens. Like in many other cases, Harry's intuiton and talent to select the right people for the right job proved to work again. Ferguson was an essential contributor to the Team Canada's performance in 1972.
In Sinden's own words, "hockey games are often won by the diggers". J.P Parise, Wayne Cashman, Bill Goldsworthy were selected, as Sinden called it, to do a "certain job" for the 1972 Team Canada. When the game plan required Team Canada to play real tough, there couldn't be a better advisor than Ferguson, one of the best NHL fighters of his hockey era.
Ferguson's special chemistry with Sinden, team dedication and ability to find common language with the top NHL players invited to play for the Canadian squad were truly instrumental. His career experience winning the Stanley Cups in Montreal was also one of the vital factors in keeping Team Canada's winning spirit in the Summit Series.